Brand Names that have already cut ties with the NRA
02/24/18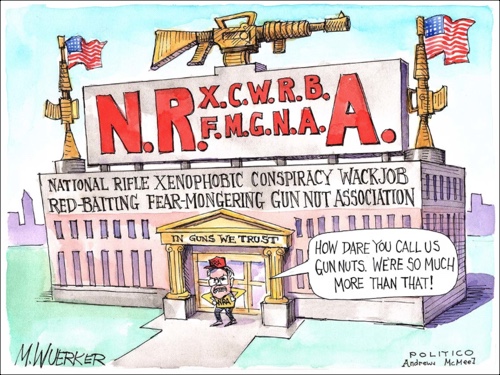 As of 2/24/18, the brand names listed below have already
cut ties with the NRA
after the recent boycotts, definitively proving that the student marches have the influence to change history now, and undoubtedly in the voting booth later in 2018 and 2020. People on social media are calling for boycotts of companies that offer special deals to NRA members who, as part of their membership, receive discounts on things like car rentals and prescription drugs; and companies not only listen, but they act, which is something that our legislators have failed to do. Congratulations to all of the following companies:

Delta

United

Hertz

Allied Van Lines

MetLife

SimpliSafe

First National Bank of Omaha

Paramount Rx

Enterprise Rent-A-Car

Alamo Rent-A-Car

National Car Rental

Symantec

Best Western

Wyndham Hotel Group

Republic Bank

Avis Car Rental

Budget Car Rental

Chubb Limited
In a
NRA statement
released on 2/24/18, it accused companies of "a shameful display of political and civic cowardice." Oh, really? We think these are heroic companies, standing up for what is right! Be sure to support them!

Thankfully, the movement begun by the students is beginning to spread:

On 2/28/18, Edward Stack, CEO of

Dick's Sporting Goods

, announced that Dick's would stop selling assault-style rifles and high capacity magazines in all 720 of its stores nationwide, and that it would not sell guns of any kind to anyone under the age of 21. Stack said that his company was inspired to take action by the student survivors in Parkland, Florida who have been leading the calls for tougher gun regulations and improved safety. Be sure to

support Dick's Sporting Goods

for all of your sports related purchases!

On 2/28/18, Walmart, the nation's largest retailer, said it would stop selling weapons and ammunition of any kind to anyone under the age of 21.

Way to go, Walmart!

On 3/1/18, Kroger, the nation's largest grocer, announced it would raise the age for weapons purchases at its

Fred Meyer

general merchandise stores!

Congratulations to Kroger!

On 3/2/18,

L.L. Bean

raised its minimum age for purchasing guns or ammunition to 21. We congratulate L.L. Bean. Be sure to

support L.L. Bean whenever you can!
The Students' Anti-Gun Movement Is Already Having A Positive Effect

If the movement against assault rifle sales to civilians keeps spreading, there are signs it could threaten the financial and political cornerstones of the gun lobby. As of 3/3/18, the movement has already affected the
stock prices of the gun manufacturers
, with American Outdoor Brands (formerly Smith & Wesson) dropping 8% since the shooting and Vista Outdoor dropping by 7%, all while the rest of the stock market has risen. On 2/28/18, Sturm Ruger reported double digit declines in sales and earnings, while Remington is preparing for Chapter 11 bankruptcy. The teenagers of "
Generation Z
" have the will and the numbers to help break the logjam that has so far prevented changes in gun laws that
the majority of Americans
have wanted for so long.


We strongly urge not only the Generation Z students, but all Americans, to continue to actively protest, to raise your voices loudly against the NRA and against those legislators who are bought and paid for by the NRA and who are therefore afraid to stand up for what is right, namely a complete ban of assault rifles in civilian hands, and most importantly to oust legislators via the voting booth who aren't representing you.

Don't forget:
468 seats in the U.S. Congress are up for re-election this year
on
November 6th
(33 Senate seats and all 435 House seats). We must all keep the assault rifle issue at the forefront and force each one of the current members of Congress to publicly voice where they stand on it. Force them to take and stand and to express their proposed solutions. Then vote for those who represent you and oust those who don't on November 6th. Make this issue be the impetus to force a non-acting Congress to get off their butts and to do the work of the people who put them there. The NRA only has 5 million members; we have hundreds of millions more! We can make a difference through change.