Synonyms & Descriptors for Trump that we've learned from his actions
04/10/23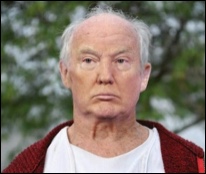 America was exposed to
the worst president in all of American history
for nearly four years — plenty of time for the citizens of America to accurately grade his report card — and on 11/3/20 they did exactly that by electing Joe Biden as the 46th President of the United States.
Twice-impeached Trump is the all-time record-holder of the
Dunning-Kruger effect
, the phenomenon in which the incompetent person is too incompetent to understand his own incompetence.
In the field of psychology, the Dunning–Kruger effect is a cognitive bias in which people of low ability have illusory superiority and mistakenly assess their cognitive ability as greater than it is. That describes Trump perfectly.
So let's post some synonyms or definitions of Trump
based on his behavior
.
Trump
[truhmp]
noun
TWICE-IMPEACHED FAILURE
AMERICA'S BIGGEST LOSER
malignant narcissist
serial sexual abuser
serial murderer

adolescent tweeter
adulterer
alarmist
amateur
America's Hitler of the 21st century
a$$hole
authoritarian

autocrat
bigot

blatant liar
blatherer
bloated emperor
blowhard
braggart
bullshit artist

bully

career criminal
caudillo
charlatan
chauvinist pig
cheat
child president
colossal mistake
COMMUNIST
con artist
con job
conspirator
coward
deceiver
defiler of the office of president
demagogue

demonic cult leader

despot
destroyer
deviate
dictator

divider
Donald Drumpf
draft dodger
(
5 times
)
egotist
enemy of the people
fabricator
failure

FAKE PRESIDENT
FASCIST

fear-monger
felon follower
fool
freak
grifter
guiltless liar
has-been
host of failed TV show
human mutation

hypocrite-in-chief
idiot

imbecilic adolescent
infantilist
insulter

insurrectionist
liar

"
lingering stench
"

loser

lowlife
lunatic
malfeasant
manipulator
megalomaniac
misleader
misogynist

mocker

monster
narcissistic nincompoop
obfuscater

obstructor of justice

oligarch
"Orange Menace"
parasite
pathological liar
pervert

PHONY

pig
political day trader
political failure
pompous asshole

POTUS
=
P
iece
O
f
T
otally
U
seless
S
hit
practice president
praise seeker
President Hate
presidential misfit
psychopath
Putin admirer
Putin puppet
quack

RACIST
rebel without a clue

rookie

scum

sideshow
sleaze bag
slime bag
snake oil salesman
SOCIALIST
sociopath
sycophant
temper tantrum baby

thief

third-rate businessman (
6 bankruptcies
)

threat to the world order
that the U.S. helped construct

TODDLER

TRAITOR

TWIDIOT

Twitter Toddler
Twitter Tyrant
Two Thumbs Trump
user
vermin
wannabe authoritarian
weakling
weasel
white nationalism supporter
white supremacist

wimp
worst president in all of American history

would-be autocrat
xenophobe
adjective
s
eriously mentally impaired
catastrophically desperate
abnormal
accusatory
adversarial
amoral
anti-American
appalling
arrogant
avaricious
boring
brainless
caustic
childish
clueless
co-dependent
combative
combustible
contradictory
control-obsessed
conniving
conspiring
contemptibly stupid
corrupt
crass
dark & ugly
defiant
degrading
delusional
demented
demonic
demoralizing
deplorable
desperate
despicable
depraved
despotic
destructive
devious
dictatorial
dim-witted
diminutive
discombobulated
disgraceful
disgusting
dishonest
disobedient
disrespectful
divisive
dysfunctional
egocentric
egotistical
embarrassing
emotionally empty
envious
erratic
evil
fat
flawed
forgettable
frighteningly ignorant
greedy
guilty
gutless
hateful
hollow
humiliating
ignorant
ill-bred
immature
immodest
immoral
impatient
imperious
impetuous
impotent
impulsive
incendiary

INCOMPETENT

inconsistent
incurious
indignant
ineffective
inept
infantile
inflammatory
insidious
insulting
insurgent
irrational
irresponsible
juvenile
loud
malevolent
maniacal
manipulative
meaningless
mentally deficient
misguided
mistrustful
myopic
neurotic
non-thinking
non-committal
obese
obnoxious
outspoken
overweight
paranoid
paratactic
pathetic
pathologically deceitful
paunchy
petty
petulant
porky
promiscuous
psychotic
pugnacious
rabid
reckless
remorseless
repetitive
reprehensible
repugnant
repulsive
retaliatory
rude
rule-skirting
sadistic
satanic
schizophrenic
self-seeking
self-serving
selfish
semiliterate
shameful
shameless
sick
simple-minded
skanky
sleazy
slimy
sloppy
small

socially retarded

sophomoric
toxic
tyrannical
unapologetic
unbalanced
unbound
uncivil
uncredible
uncreditable
uncouth
underdeveloped
undeveloped

undisciplined

unhinged
unimportant
unmannered
unpredictable
unprepared
unpresidential
unprincipled
unruly
unscrupulous
unstable
untrustworthy
unvirile
unvirtuous
useless
venomous
vindictive
vitriolic
volatile
weak
whiny

worthLESS
less than worthLESS
even less than less than worthLESS

wrathful
xenophobic