World Opinion
02/08/20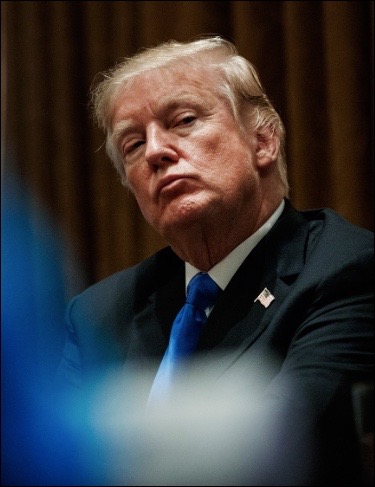 The Vindictive Coward
"Donald Trump is a coward who has never served anything but his own interests, and he is not fit to be Commander in Chief of any American who is willing to sacrifice in uniform for the rest of us."


(Senator Tammy Duckworth, on 2/7/2020)



"Every Senate Republican, except one, sent Donald Trump a clear message this week: that you can abuse the power of your office and we will protect you. We're now living with the consequences as an emboldened Trump feels free to punish anyone who would stand up to his illegal actions by doing the most American thing anyone can do: speaking out for what is right."


(Senator Tammy Duckworth, on 2/7/2020)



"Does the president know right from wrong? I don't think so."


(Nancy Pelosi, Speaker of the House, on 1/30/2020)



"

You don't realize how important character is in the highest office in the land until you don't have it."


(Adam B. Schiff (D-Calif.) on 1/24/2020)



"

On a nearly daily basis, Donald Trump's demeanor and competence has been rightly called into question due to his frightening and consistent drama and poor judgment. Donald Trump must depart the American Presidency. The sooner the better. He must leave in order to preserve and protect our American democracy, standing in the world, and the future viability of the Republican Party."


(www.RepublicansAgainstTrump.com)



"The President of the United States is threatening to commit war crimes on Twitter."


(

Rep.

Ilhan Omar,

D-Minn., on 1/5/2020

)

Trump is "a monster."
(

Rep.

Alexandria Ocasio-Cortez

, D-N.Y., on 1/5/2020

)



"The more the walls close in on this guy, the more irrational he becomes."


(

Joe Biden, on 1/5/2020

)



Trump is undoubtedly the biggest scam in the history of American politics.





"

The world is laughing at President Trump. They see him for what he really is: dangerously incompetent and incapable of world leadership."
(Joe Biden)



When asked if there was sufficient evidence to charge President Trump with the high crime and misdemeanor of obstruction of Congress,

Professor Noah Feldman of Harvard Law School

argued that "putting yourself above the law as president" is an impeachable offense.





Trump is "untruthful in ways and to an extent that had never been dreamed somebody holding the Oval Office could be."


(Carl Bernstein, Watergate reporter, on 11/22/19)



"

Trump's whole life has been a scam."
(Chelsea Clinton)



"Any

nation that elects Donald Trump to be its president has a remarkably low view of politics."
(Peter Wehner, contributing writer at The Atlantic and a senior fellow at the Ethics and Public Policy Center)



"This president probably should have been impeached the day he walked in. He's incompetent. He has a terrible attitude. He doesn't understand government. He is in there trying to build his own brand, and he's taking advantage of the office from day one."


(John Dean, former White House counsel to Richard Nixon)




One out of three Trump supporters is as stupid as the other two.



"Donald Trump is not good for the Republican party."
(Eugene Robinson of The Washington Post, on Meet The Press on 11/17/19)

Trump should be imprisoned and "placed in solitary confinement." Impeachment "is not good enough for Trump."
(Maxine Waters, House Financial Services Chairwoman)



Trump is the "moron-in-chief."


(Barbra Streisand)



"Trump, while often unpredictable, has been entirely consistent in two ways. First, he loves to claim credit for anything good that happens. And, second, he will not only refuse to accept responsibility for anything that goes wrong, he will blame others for it. Trump should have a sign on his desk that reads,

'At some point, I'll be throwing you under the bus.'

"
(Dean Obeidallah, contributor to CNN, The New York Times, Los Angeles Times and Newsweek)

Trump "has fanned the flames of white supremacy" in his response to the mass shootings in El Paso, Texas, and Dayton, Ohio. Trump's own rhetoric on immigration is echoed in the racist message that the Dayton shooter posted online. "We have a president who has aligned himself with the darkest forces in this nation."
(Joe Biden, on 8/7/19)
"This president has in a very intentional, sweeping way made it easier for people to access firearms, not more difficult. He's systematically gone and undone all the protections that were put in place to try to limit the ability of dangerous people to access firearms."
(Rep. David Cicilline (D-R.I.), a vice chair of the House Gun Prevention Task Force)
"This presidency is an existential threat to our democracy and our country as we know it." (
Nancy Pelosi, Speaker of the House, on 7/23/19)
"45 is a puppet."
(Charles Leazott, a former Republican who despises Trump and who created the fake presidential seal)
When being attacked by Trump, Democratic opponents must remember this famous quote: "Don't ever get in a fight with a pig because you'll both get dirty, but the pig will like it."
(George Bernard Shaw)
"Trump is trying to be both the arsonist who created the problem in the first place and the firefighter who wants credit for addressing it." (
Beto O'Rourke, Democratic presidential hopeful)
"It's astounding how far we've gone backwards since [Trump] has been president in terms of environmental law. The administration's position on the environment is despicable."
(Kevin Bacon, on 6/13/19)


Hard Facts (not Trump's "Fake News"): Since Trump took office, he has committed to pulling the US out of the Paris accord on climate change, used the EPA and Interior Department to undo dozens of Obama-era environmental regulations, and weakened rules governing vehicle emission standards. Trump's administration has also killed Obama's signature Clean Power Plan and opened up more land to extracting and developing fossil fuels.



Trump is "dismantling our democracy every day brick-by-brick (through) his actions, his lies, his abuse of power."
(Former Republican congressman Tom Coleman, who represented Missouri for nearly 20 years, on 5/24/19)
"This president isn't trying to make America great; he's trying to make America hate." (
California Senator Kamala Harris, on 5/5/19,
who has directly accused Trump of fueling sexism, racism, anti-Semitism, Islamophobia, homophobia and transphobia.)
Trump is a "forest fire" who "is doing tremendous damage to core American values."
(James Comey, former FBI director)
Trump and his advisors can't stay on the same page because there is no page."
(
Jack Schafer
, Politico's senior media writer, on 4/2/19)
"Trump needs to go for the good of this country."
(Retired Army Lt. Col.
Ralph Peters
, on 4/24/19)
Trump is living proof that ignorance and incompetence are not illegal in America.
Trump's only game plan for his illegal presidential actions: stall, sue and delay. It's his predictalbe and repeatable standard operating procedure each time he skirts the law.



Any person who votes for Trump is one of the most stupid people on the planet.