AMERICA WINS WITH BIDEN!
Joe Biden is the best thing that has happened to the U.S. in the last four years.
He's a qualified and empathetic leader who has the confidence of the voters.
Trump was ranked the worst president in 150 years by over 140 historians.

ONLY THE VERY STUPID WON'T GET VACCINATED!
Vaccine hesitancy or refusal remains a formidable threat to reaching so-called herd immunity, when the virus can't spread easily because it can't find enough hosts. So the pandemic is continuing to spread because of these people who can, but won't, get vaccinated. The longer the coronavirus circulates, the more time it has to mutate.
The only way to break the cycle is for everyone to get vaccinated.
Public health is not a political issue. This is about saving the world.
Stupidity is not illegal in America.
Don't be stupid — get vaccinated.
99% of those dying of the virus now are the stupid anti-vaxxers!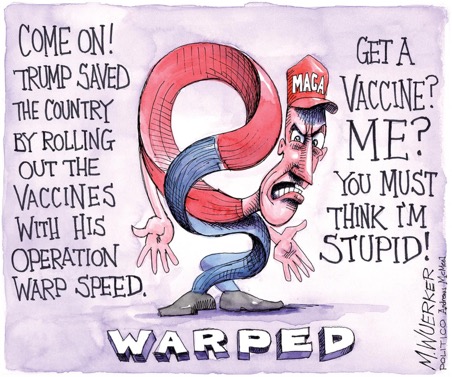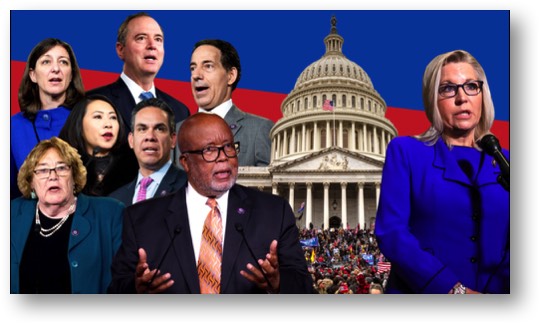 7/24/21


House Committee Members Selected To Investigate Trump's Jan. 6 Insurrection
The US House of Representatives voted last month to create a new select committee to investigate the deadly Capitol Hill insurrection on January 6.

The committee members are:

Bennie Thompson, chairman (15 term House member, since 1993)

Pete Aguilar (4 term House member)

Liz Cheney (3 term House member)

Zoe Lofgren (14 term House member, since 1995)

Elaine Luria (2 term House member)

Stephanie Murphy (3 term House member)

Jamie Raskin (3 term House member)

Adam Schiff (11 term House member, since 2001)
The committee's first hearing is scheduled for July 27 and will feature testimony of law enforcement officers who responded to the insurrection.
---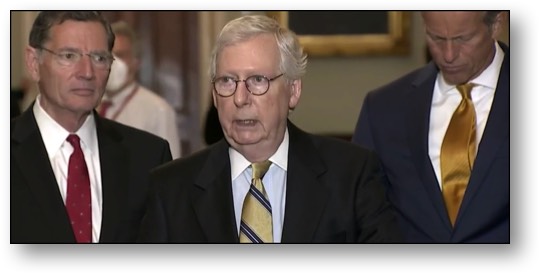 Updated: 7/23/21


Two-Faced Republican Assholes Shift Their Stance On Vaccines
U.S. hospitalizations and 99% of the deaths from the coronavirus are now among the unvaccinated — the defiant anti-vaxxers.
Top Republican legislators have done a 180-degree turnaround and are now urging their supporters to get vaccinated
as the delta coronavirus variant surges across the United States, marking a notable, two-faced shift away from the anti-vaccine conspiracy theorizing that has gripped much of the party in opposition to the Biden administration's efforts to combat the virus.

Yellow-bellied Senate Minority Leader Mitch McConnell (R-Ky.) was part of the rising chorus on Tuesday, as was two-faced Rep. Steve Scalise of Louisiana, the No. 2 Republican in House leadership. Scalise said he was compelled to get the shot in light of the recent spread of the delta variant and the associated spike in cases — and that politics was not a consideration. He was even distributing pictures of himself getting his first dose of the vaccine last weekend after months of holding out.

These two-faced idiots claimed politics was not a consideration. Yeah, right!
Nobody believes these lying Republican assholes.
Fox News host Sean Hannity, who previously
called the virus a hoax
, has done a 180º turnaround and seemingly abandoned his disinformation campaigns on Covid-19, saying, "I can't say it enough. Enough people have died. We don't need any more death." Now, all of a sudden and out of nowhere, Hannity believes in the science of vaccinations. Yet on Friday, July 23rd, CNN reported that Hannity backpedaled, saying he never told anyone to get a vaccine. There's only one thing we all know for sure — Hannity is a shameful and ignorant asshole — and those who continue to listen to his worthless babble are no better than he is.

Steve Doocy, who cohosts "Fox & Friends," told viewers this week that the vaccination "will save your life."

Even Republican Gov. Ron DeSantis, who
recently began
selling campaign merchandise mocking masks and medical experts
by selling T-shirts and beer koozies that read "Don't Fauci My Florida," said,
"These vaccines are saving lives." DeSantis refuses, however, to impose a mask mandate in Florida, the state with the most coronavirus cases now being reported at an average of 6,500 per day, a figure that has doubled in the last week and quadrupled in the last month.

Republican Sen. Chuck Grassley from Iowa encouraged "ALL eligible Iowans/Americans to get vaccinated."

Rep. Elise Stefanik (R-N.Y.), the No. 3 House GOP leader, also now encouraged her constituents to get vaccinated.

A
survey
of all 535 members of Congress by CNN found that in May, 100 percent of Democrats from both chambers were fully vaccinated, but only 44.8 percent of House Republicans.

Up until now, all these Republicans had nothing but baseless and irrational excuses for not getting vaccinated, mainly for political reasons to spite the Democrats who very obviously knew better. Now, like a bunch of brainless lemmings following their cult leader, the Republicans are singing a different tune.
Face it, folks — these Republicans aren't leaders. It's time to vote them out in the upcoming mid-term elections.
Eric Ward, a senior fellow at the Southern Poverty Law Center who studies extremism, blamed vaccine reluctance on "nearly a year-and-a-half of right-wing rage machine rhetoric. Even conservative leaders now are having a hard time figuring out how to rein in what had primarily been a propaganda campaign, and they are now realizing their constituencies are particularly vulnerable," he said.

Some ignorant Republican legislators, however, continue to peddle falsehoods. QAnon bitch Marjorie Taylor Greene, R-Ga.,
was suspended from posting on Twitter for 12 hours
earlier this week after spreading disinformation about vaccine-related deaths. Charlie Kirk, the founder of Turning Point USA, suggested without any evidence on his podcast that up to 1.2 million could have died after getting the COVID-19 vaccine.
Faced with death from a highly transmissible killer virus that's now mutated and become an "anti-vaxxer pandemic," all of a sudden many Republicans are getting religion!
---
---



More July, 2021 news here.

Archived News:
June, 2021
May, 2021
April, 2021
March, 2021
February, 2021
January, 2021
December, 2020
November, 2020
October, 2020
September, 2020
August, 2020
July, 2020

Older archived news:
Click the 'NEWS' dropdown menu
---
We're quite sure that Trump, the twice-impeached malignant narcissist and demonic cult leader, would not appreciate most of what's included on this web site. Do we care? Absolutely not because the real truth cannot be denied. We don't give a damn about anything Trump, America's #1 Loser, has to say or think. He already proved his absolute worthlessness and incompetence. Trump is nothing more than a "has been" embarrassment to the United States of America and to its citizens.

---
This web site space is being generously donated by its owner to educate the thinking public on the "real" vs. "fake" facts about Trump, the mentally deranged malignant narcissist, and his ignorant cult followers (aka "supporters").