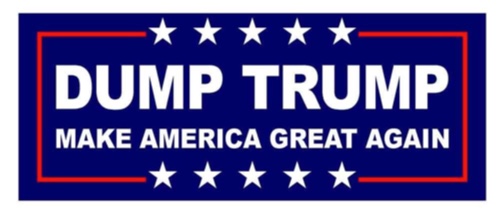 ---
Please share this web site with everyone.
Get the word out and reveal the truth about Trump, the deranged, malevolent, malignant
narcissist
in the Oval Office. We have a moral responsibility to do everything we can within each of our realms of influence to ensure that everyone we know will
vote against Trump and his cronies on November 3rd
to make him a one-term president. Democracy, as we know it, is at stake.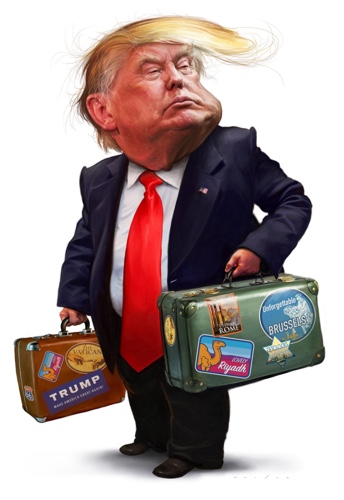 9/24/20


Kick The Diabolical Dictator's Butt Out Of The People's White House!
Trump, the worst president in all of American history, refused to commit to ensuring a peaceful transfer of power following the presidential elections when asked about the topic during a
press conference
yesterday. "We're going to have to see what happens," Trump said, reiterating
unsubstantiated allegations of electoral fraud
.

Trump has frequently claimed that the election is rigged against him, though
he has presented no evidence whatsoever of fraud
, and voting experts have repeatedly debunked Trump's claim that mail-in ballots are linked to fraud. Out of Trump's twisted, demented, and altered sense of reality, he is pushing
a baseless theory that foreign actors are plotting to send in fake ballots, though his own intelligence community has found no evidence of such a plot.


Trump's remarks drew prompt pushback from several prominent Democratic politicians as well as Republican Sen. Mitt Romney, while all the other
spineless Republican lawmakers were largely silent
.

"This is how democracy dies. A president so desperate to cling to power that he won't commit to a peaceful transition of power. That he seeks to throw out millions of votes. And a Republican Party too craven to say a word," said Democratic Rep. Adam Schiff.

The US has had successful and peaceful transitions of power in every single election since its inception in 1776.

"
The American people will decide this election. And the United States government is perfectly capable of escorting trespassers out of the White House
," said Biden spokesperson Andrew Bates.


VOTE FOR JOE BIDEN ON NOV. 3


---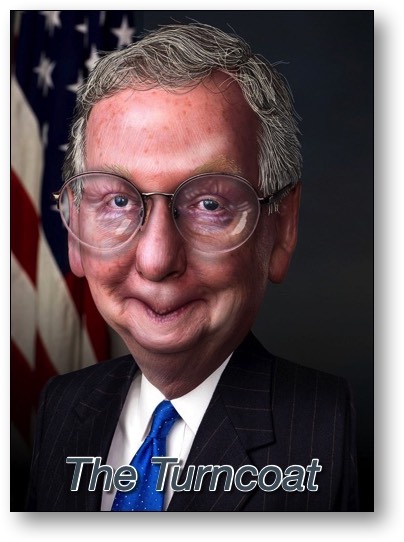 9/23/20


Vote Out Mitch McConnell — the Turncoat!
Kentucky voters will have the opportunity this November to vote out Mitch McConnell, one of the Senate's two-faced turncoats.


In February, 2016 McConnell said, "
The American people should have a voice in the selection of their next Supreme Court justice. Therefore, this vacancy should not be filled until we have a new president."

McConnell is now saying that this only applies when the president is from a different party than the Senate majority leader. It says no such thing anywhere in either the Constitution or in any law. Wikipedia needs to add "Mitch McConnell" to the definition of "turncoat."


The confirmation of a new justice to succeed Ruth Bader Ginsburg is solely about McConnell exercising raw political power for the purpose of acquiring and maintaining more power. It has nothing to do with what it should be about, namely following the will of the citizens of America who put him in office; and for that reason alone, McConnell should be ousted this November.
McConnell no longer represents the people of America.

McConnell is playing in the politics of decline. His party will no longer hold either the House or Senate majority after the November election, and he knows it. The liberal movement is on the rise for the next presidential term, so it's a furious power-grab for McConnell now.
He is leading a party that depends on exploiting every avenue to preserve power despite not commanding national majorities. In the last seven presidential elections, Republicans have won the popular vote just once. This election will be no different. You lose, Mitch.
VOTE FOR JOE BIDEN ON NOV. 3


---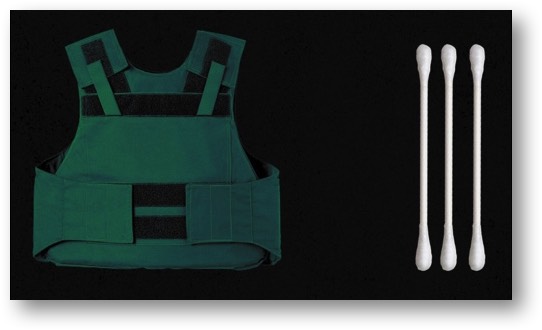 9/22/20


Pentagon Used $1 Billion Bailout Fund For Military Supplies Instead Of PPE


While hospitals continue to be short of personal protection equipment (PPE), a $1 billion fund from the Cares Act that Congress gave the Pentagon in March to build up the country's supplies of medical equipment has instead been mostly funneled to defense contractors and used for making jet engine parts, body armor and dress uniforms.
Where is Trump's system of checks and balances?
Over 200,000 Americans have already died on Trump's watch
, and yet there remains a
severe shortage of N95 masks
at numerous U.S. hospitals. These are the types of problems that the money was originally intended to address.

Instead, here is how some of the money was awarded:

$183 million

to firms including Rolls-Royce and

ArcelorMittal

to maintain the shipbuilding industry

$13.4 million

to

five firms

for satellite, drone and space surveillance technology

$15 million

to

LeoLabs, Inc. to ensure the continued viability of space surveillance capability through the operation and maintenance of a world-wide highly capable phased-array radar network

$80 million

to

Spirit AeroSystems

,

a Kansas aircraft parts business suffering from the Boeing 737 Max grounding and the global slowdown in air travel

$2 million

to the American Woolen Company in Connecticut for Army dress uniform fabric
The Democratic-controlled House Committee on Appropriations has made clear that the Defense Department's decision to funnel the funding to defense contractors went against its intent in that section of the Cares Act, which was to spur the manufacturing of personal protective equipment.


---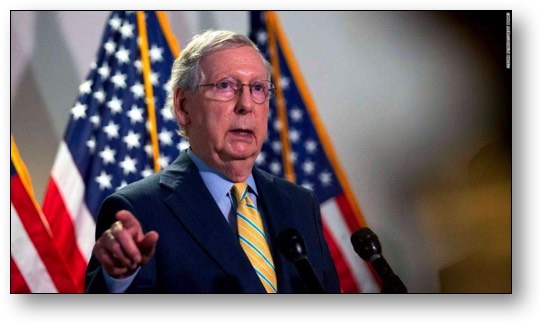 9/21/20


Trump's Hypocrites Push To Fill Supreme Court Vacancy
TRUMP'S HENCHMEN ARE PROVING TO BE LIARS
Americans have not forgotten Mitch McConnell's nearly year-long retaliatory refusal to hold a vote over President Barack Obama's nomination of Merrick Garland to the High Court in February of 2016 when McConnell said that the American people should "have a voice in this momentous decision."

But
McConnell is now showing his true turncoat colors
. Now he is pushing for quick action to fill the Supreme Court vacancy "without delay."

Likewise,
Lindsey Graham
, another of Trump's hypocrites, said in 2018, if there's a Supreme Court opening in the "last year of President Trump's term, and the primary process has started, we'll wait 'til the next election" to confirm a new justice. Graham continued,
"I want you to use my words against me"
if I ever contradicted that vow.
Great, Lindsey, you pathetic liar, now you get your wish!
The people of South Carolina should rightfully vote Graham out of the Senate since he is up for reelection this November.
This would also be the first Supreme Court appointment by an
IMPEACHED president
.


The people want the new president to fill the Supreme Court vacancy
and are currently in the midst of speaking loudly by voting early in several states and many more will be joining them in the next few weeks by casting their votes for Biden in advance of the November 3 election.
Both McConnell's and Graham's clear contempt for the American people's wishes will secure a Biden victory and cost Republicans the Senate.
VOTE FOR BIDEN NOW!


---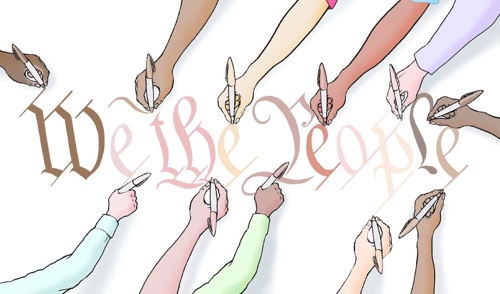 VOTE THESE SENATORS OUT!

Listed below are the 23 Republican Senators up for reelection who are guilty of cowardice and betrayal for voting to exonerate Trump from his crimes, and who therefore must be VOTED OUT in November in order to Make America Great Again. Every time they had a choice between America and Trump, they chose Trump. Every time they were called to the service of this nation and their sacred oath, they chose Trump instead. Learn their names. Remember their actions. And never, ever trust them again. These are the senators who have abandoned their consciences, left the American people behind, and failed to stand up for the Constitution and common decency. Vote these Senators out in November!
Shelley Moore Capito (WV)
David Perdue &
Kelly Loeffler (GA)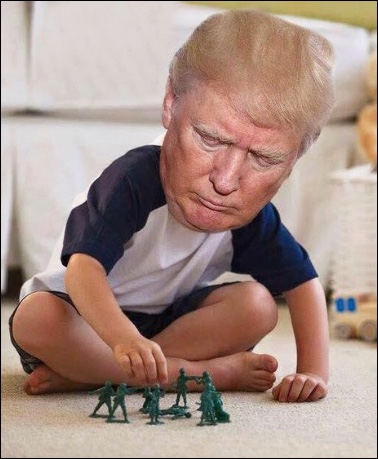 "The Stable Genius"
"The Unstable Idiot"

As we move through 2020,
the last year of putting up with
the IMPEACHED TWITTER TODDLER,
let's look at a synopsis of his "real" track record.


The Impeached Twitter Toddler:

Was impeached on December 18, 2019

by the House of Representatives in an historic and

permanent

rebuke

. Face it —

Trump is both a pathetic loser and the worst president in all of American history

.

Did nothing about protecting Americans from the

Covid-19 pandemic

, except try to deny its existence and severity multiple times.

Has taken repeated military actions against other nations on foreign soil without the pre-approval of Congress and without any plan or any end game. Trump is nothing more than an aimless loose cannon who blindly shoots from the hip and puts American lives at risk.

Increased the national debt by over

TWO TRILLION DOLLARS

since taking office, with NO PLAN whatsoever for reducing that debt.

Has been accused of sexual abuse by over 20 heroic women.

Continues to refuse releasing his tax returns to the American public. The

one and only

viable reason is that he's hiding something that would instantly incriminate him.

Separated thousands of migrant children from their parents and put them in prison camps inside the U.S. border.

Killed off the daily White House briefings and tried to squash the free press by stripping reporters of their credentials.

Was

responsible for the longest government shutdown in American history (35 days)

, the THIRD government shutdown during his term in office, which put over 800,000 government workers out of work, cost the U.S. economy over $3 billion in unrecoverable economic activity, and reduced the country's gross domestic product by over $11 billion during the last quarter of 2018 and the first quarter of 2019.

Declared a

fictitious national emergency

and

stole nearly $8 billion taxpayer dollars

to fund his unnecessary border wall.

Denies climate change while the worldwide scientific community proves otherwise. Additionally, this 73-year-old verbally attacked 16-year-old Greta Thunberg, the environmental and climate change activist who beat him out for

Time

magazine's 'Person of the Year.'

Won huge tax cuts for the wealthiest Americans and for huge corporations at the expense of the middle class.

Literally bragged that he could shoot someone without any consequences or without alienating his supporters, who are without any doubt

the most stupid people on planet Earth

.

Ridiculed people of color as "low-IQ individuals."

Declared himself "The Tariff Man." Tariffs are nothing more than

taxes on Americans collected at the border

.

Cozied up to dictators.

Opened new public lands to fossil fuel (oil) exploration, reduced the size of national parks, and waived protections for endangered species.

Excused the Saudi leader for the killing of dissident journalist Jamal Khashoggi on Turkish soil, and then paid off the Turkish leader by withdrawing U.S. troops from Syria, allowing him to finish off his enemies, the Kurds. Both of these actions signaled the strategic and moral bankruptcy of Trump's leadership.

Embraced Russian President Vladimir Putin's worldview a month after meeting with Kim Jong Un where

he ridiculed our own U.S. intelligence community on the world's stage

.

Personally asked Japan's Prime Minister Shinzo Abe to nominate him for the Nobel Peace Prize — this is the epitome of self-aggrandizement!

Continues to claim broad powers that he does not have, simply to fire up his political base, including

threatening to shut down Twitter for flagging false content, claiming he can "override" governors who dare to keep churches closed to congregants during the pandemic, asserting the "absolute authority" to force states to reopen during the pandemic, and

claiming

he could force governors to reopen their economies before they felt ready.

Used tear gas on 6/2/20 on peacefully protesting American citizens outside the White House in Lafayette Park in order to clear the street for his selfish photo-op with the Bible at St. John's Church; and who tried to turn 10,000 active duty military troops on American citizens.
THE BOTTOM LINE:
America desperately needs a new president right now — one who has a proven track record of governing, leading and serving the people; not one who is destroying what America stands for with each passing day. The presidency is not an entry level job, and definitely not one for an impeached, mentally unstable, impotent, malignant narcissist!


AMERICA'S PRIORITY #1:
You can't fix stupid, but you can vote it out on November 3, 2020! This includes the members of the House of Representatives who voted against the Trumpster's impeachment.
Click
here
for a list of their names.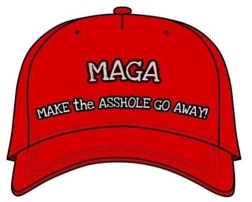 MAGA = Masks Are Great Again!

MAKE AMERICA GREAT AGAIN — OUST TRUMP!
We're quite sure Trump would not appreciate most of what's included on this web site. Do we care? Absolutely not because the real truth cannot be denied. We no longer give a damn about anything Trump has to say or think. He has already proven his absolute worthlessness and incompetence. We have ultimate respect for the office of the president, but we have no respect whatsoever for Trump, the person. Respect is not automatic; it's earned. And Trump has not earned one iota of our respect. He is nothing more than an embarrassment to the United States and to its citizens. He spews hate, bigotry and racism, and has accomplished nothing. But don't fear, fellow citizens, Trump is only a one-term, has-been president who will soon be voted out and then thankfully be forever forgotten.
Not Our President! No redos for Trump. Once is Enough!
Dissenting opinions: Call 1-800-GO-TO-HELL
#notourpresident
Our 2020 bumper sticker: Anybody But Trump!
---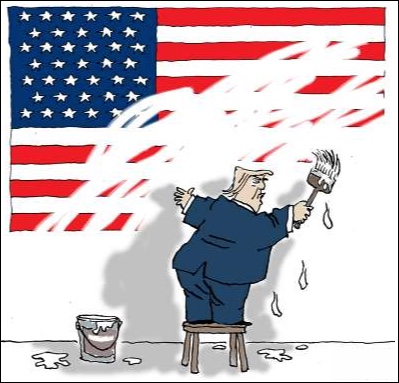 Trump continues to destroy democracy!
---
"Real patriotism is a willingness to challenge the government when it's wrong." (Ron Paul)
"Patriotism is supporting your country all the time, and your government when it deserves it." (Mark Twain)
This web site space is being generously donated by its owner to educate the thinking public on the "real" vs. "fake" facts about Trump and his administration so that voters can make more educated and informed decisions in the voting booth in the upcoming 2020 election than they obviously did in 2016.

Signed,
"Impeached Twitter Toddler" NON-SUPPORTER.
#NotMyPresident
#DumpTrump