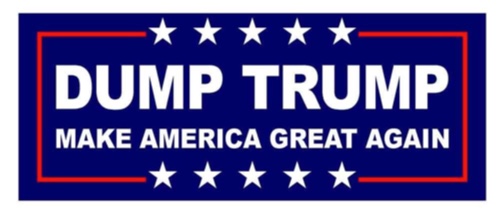 ---

Please share this web site with everyone. Get the word out and reveal the truth about Trump, the deranged, malignant
narcissist
in the Oval Office. We must all do everything we can within each of our realms of influence to ensure that everyone we know votes against Trump on November 3rd to make him a one-term president. Democracy, as we know it, is at stake.


---
6/4/20 BREAKING NEWS:
BIDEN WIDENS HIS LEAD OVER puny little trump WITH AN 11-POINT ADVANTAGE NATIONALLY
AND A 19-POINT ADVANTAGE WITH WOMEN!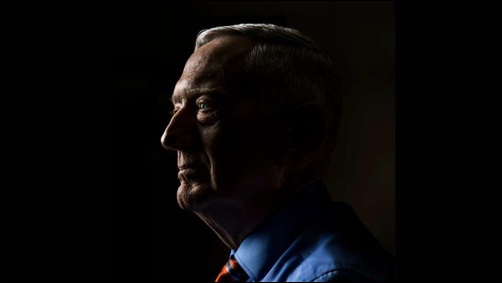 6/4/20


Trump is a Threat to the Constitution


General James Mattis,
the esteemed Marine general who resigned as secretary of defense in December 2018 to protest Donald Trump's Syria policy, describes Trump as
a threat to the Constitution who is also trying to turn Americans against one another
.


"Trump is the first president in my lifetime who does not try to unite the American people—does not even pretend to try. Instead, he tries to divide us,"
Mattis writes.
"We are witnessing the consequences of three years of this deliberate effort. We are witnessing the consequences of three years without mature leadership. We can unite without him, drawing on the strengths inherent in our civil society. This will not be easy, as the past few days have shown, but we owe it to our fellow citizens; to past generations that bled to defend our promise; and to our children."

"When I joined the military, some 50 years ago,"
he writes,
"I swore an oath to support and defend the Constitution. Never did I dream that troops taking that same oath would be ordered under any circumstance to violate the Constitutional rights of their fellow citizens—much less to provide a bizarre photo op for the elected commander-in-chief, with military leadership standing alongside."


"We know that we are better than the abuse of executive authority that we witnessed in Lafayette Square. We must reject and hold accountable those in office who would make a mockery of our Constitution."

Trump reportedly was not happy with his former defense secretary's recent comments condemning his leadership in the wake of the social unrest after George Floyd's death. Too bad. So sad.
Nobody gives a damn about what the incompetent, impeached Twitter Toddler thinks! General Mattis is an esteemed leader with a proven track record; Trump is only a bully and a coward.
---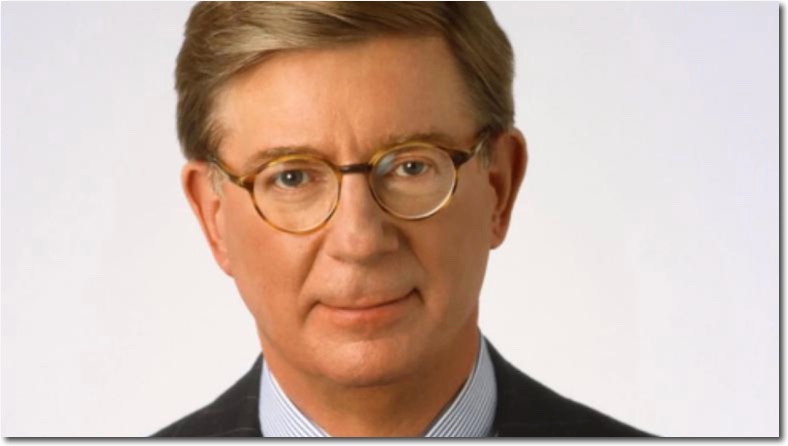 Trump Must Be Removed —
So Must His Congressional Enablers


6/3/20

(CNN & the Washington Post) One of America's most prominent conservative columnists wants Republicans to lose in 2020.

For the better part of the last four decades, George F. Will, Pulitzer Prize-winning Washington Post columnist, has been at the intellectual center of American conservatism. Now he is calling for a full-blown rout of the Republican Party at the ballot box in November.

While Will has harsh words for Trump -- "this low-rent Lear raging on his Twitter-heath has proven that the phrase malignant buffoon is not an oxymoron" -- he saves his true condemnation for the members of Congress who have enabled the President.

Writes Will: "In life's unforgiving arithmetic, we are the sum of our choices. Congressional Republicans have made theirs for more than 1,200 days. We cannot know all the measures necessary to restore the nation's domestic health and international standing, but we know the first step: Senate Republicans must be routed, as condign punishment for their Vichyite collaboration, leaving the Republican remnant to wonder: Was it sensible to sacrifice dignity, such as it ever was, and to shed principles, if convictions so easily jettisoned could be dignified as principles, for ... what? Praying people should pray, and all others should hope: May I never crave anything as much as these people crave membership in the world's most risible deliberative body."

That is an absolutely stunning paragraph from anyone. That it is from one of the longtime leading minds of the conservative movement is all the more devastating.

Yes, Will has long made clear his distaste for Trump and the ways in which the party has capitulated to him. (Will left the Republican Party officially in the summer of 2016, after it became clear Trump would be the nominee.)

But to call for not just Trump's defeat but also the loss of Republicans' Senate majority is a striking move on Will's part. As a longtime advocate for the conservative overhaul of the judiciary, Will knows better than most what a Democratic president and Democrat-controlled Senate would mean.

It would mean, in short, federal court vacancies being filled by judges far more liberal than Will -- and with far more expansive definitions of how the Constitution should be interpreted. And with lifetime appointments to their jobs.

(If you doubt how important controlling the Senate -- and, therefore, the judicial nominating process -- is, just look back at the last three-plus years, where Trump and Senate Majority Leader Mitch McConnell have effectively overhauled the bench in their image.)

What Will is advocating is nothing short of an electoral destruction of the party that he called home for decades.

His thinking is reflective of the view Ra's al Ghul took of Gotham in "Batman Begins":

"Gotham's time has come. Like Constantinople or Rome before it the city has become a breeding ground for suffering and injustice. It is beyond saving and must be allowed to die. This is the most important function of the League of Shadows. It is one we've performed for centuries. Gotham... must be destroyed."

Will's view is, effectively, that the Trump version of the GOP is so corrupted, so broken, so beyond repair that the only solution is to raze it -- and start from the ground up again.

As he writes:
"The measures necessary for restoration of national equilibrium are many and will be protracted far beyond his removal. One such measure must be the removal of those in Congress who, unlike the sycophantic mediocrities who cosset him in the White House, will not disappear "magically," as Eric Trump said the coronavirus would. Voters must dispatch his congressional enablers, especially the senators who still gambol around his ankles with a canine hunger for petting."

As if to prove Will's point, Senate Republicans raced to defend Trump's "law and order" speech on Monday night and his decision to clear out protesters from in front of the White House so that he could stroll across H Street to hold up a Bible in front of St. John's Church. The president's provocations — his coarsening of public discourse that lowers the threshold for acting out by people as mentally crippled as he — do not excuse the violent few. They must be punished. He must be removed.

"You can characterize it the way you want, but obviously the President is free to go where he wants and to hold up a Bible if he wants," Texas Sen. John Cornyn, the second-ranking Republican in the chamber, told CNN's Manu Raju Tuesday morning.

Dismiss Will as a disaffected old-timer if you will. But remember too that George Will is someone who was a conservative long before the age of Donald Trump.


---

Note: For the Trump supporters reading this, who very obviously don't have the mental capacity to understand the brilliant intellect of George Will, this means voting out not only Trump, but ALL Republicans up for election and reelection in both the Senate and the Congress. In other words, starting from the ground up with a Democratic president, House, and Senate in 2021.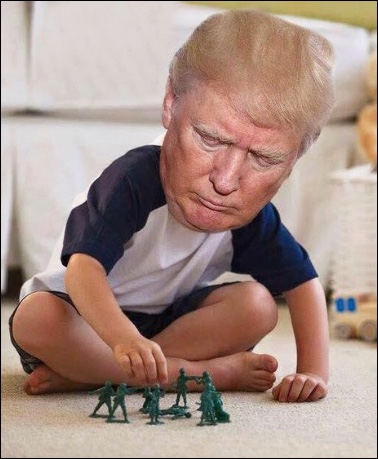 "The Stable Genius"
"The Unstable Idiot"

As we move through 2020,
the last year of putting up with
the IMPEACHED TWITTER TODDLER,
let's look at a synopsis of his "real" track record.


The Impeached Twitter Toddler:

Was impeached on December 18, 2019

by the House of Representatives in an historic and

permanent

rebuke

. Face it —

Trump is both a pathetic loser and the worst president in all of American history

.

Did nothing about protecting Americans from the

Covid-19 pandemic

, except try to deny its existence and severity multiple times.

Has taken repeated military actions against other nations on foreign soil without the pre-approval of Congress and without any plan or any end game. Trump is nothing more than an aimless loose cannon who blindly shoots from the hip and puts American lives at risk.

Increased the national debt by over

TWO TRILLION DOLLARS

since taking office, with NO PLAN whatsoever for reducing that debt.

Has been accused of sexual abuse by over 20 heroic women.

Continues to refuse releasing his tax returns to the American public. The

one and only

viable reason is that he's hiding something that would instantly incriminate him.

Separated thousands of migrant children from their parents and put them in prison camps inside the U.S. border.

Killed off the daily White House briefings and tried to squash the free press by stripping reporters of their credentials.

Was

responsible for the longest government shutdown in American history (35 days)

, the THIRD government shutdown during his term in office, which put over 800,000 government workers out of work, cost the U.S. economy over $3 billion in unrecoverable economic activity, and reduced the country's gross domestic product by over $11 billion during the last quarter of 2018 and the first quarter of 2019.

Declared a

fictitious national emergency

and

stole nearly $8 billion taxpayer dollars

to fund his unnecessary border wall.

Denies climate change while the worldwide scientific community proves otherwise. Additionally, this 73-year-old verbally attacked 16-year-old Greta Thunberg, the environmental and climate change activist who beat him out for

Time

magazine's 'Person of the Year.'

Won huge tax cuts for the wealthiest Americans and for huge corporations at the expense of the middle class.

Literally bragged that he could shoot someone without any consequences or without alienating his supporters, who are without any doubt

the most stupid people on planet Earth

.

Ridiculed people of color as "low-IQ individuals."

Declared himself "The Tariff Man." Tariffs are nothing more than

taxes on Americans collected at the border

.

Cozied up to dictators.

Opened new public lands to fossil fuel (oil) exploration, reduced the size of national parks, and waived protections for endangered species.

Excused the Saudi leader for the killing of dissident journalist Jamal Khashoggi on Turkish soil, and then paid off the Turkish leader by withdrawing U.S. troops from Syria, allowing him to finish off his enemies, the Kurds. Both of these actions signaled the strategic and moral bankruptcy of Trump's leadership.

Embraced Russian President Vladimir Putin's worldview a month after meeting with Kim Jong Un where

he ridiculed our own U.S. intelligence community on the world's stage

.

Personally asked Japan's Prime Minister Shinzo Abe to nominate him for the Nobel Peace Prize — this is the epitome of self-aggrandizement!

Continues to claim broad powers that he does not have, simply to fire up his political base, including

threatening to shut down Twitter for flagging false content, claiming he can "override" governors who dare to keep churches closed to congregants during the pandemic, asserting the "absolute authority" to force states to reopen during the pandemic, and

claiming

he could force governors to reopen their economies before they felt ready.

Used tear gas on 6/2/20 on peacefully protesting American citizens outside the White House in Lafayette Park in order to clear the street for his selfish photo-op with the Bible at St. John's Church.
THE BOTTOM LINE:
America desperately needs a new president right now — one who has a proven track record of governing, leading and serving the people; not one who is destroying what America stands for with each passing day. The presidency is not an entry level job, and definitely not one for an impeached, mentally unstable, impotent, malignant narcissist!


AMERICA'S PRIORITY #1:
You can't fix stupid, but you can vote it out on November 3, 2020! This includes the members of the House of Representatives who voted against the Trumpster's impeachment.
Click
here
for a list of their names.
MAKE AMERICA GREAT AGAIN — OUST TRUMP!
We're quite sure Trump would not appreciate most of what's included on this web site. Do we care? Absolutely not because the real truth cannot be denied. We no longer give a damn about anything Trump has to say or think. He has already proven his absolute worthlessness and incompetence. We have ultimate respect for the office of the president, but we have no respect whatsoever for Trump, the person. Respect is not automatic; it's earned. And Trump has not earned one iota of our respect. He is nothing more than an embarrassment to the United States and to its citizens. He spews hate, bigotry and racism, and has accomplished nothing. But don't fear, fellow citizens, Trump is only a one-term, has-been president who will soon be voted out and then thankfully be forever forgotten.
Not Our President! No redos for Trump. Once is Enough!
Dissenting opinions: Call 1-800-GO-TO-HELL
#notourpresident
Our 2020 bumper sticker: Anybody But Trump!
---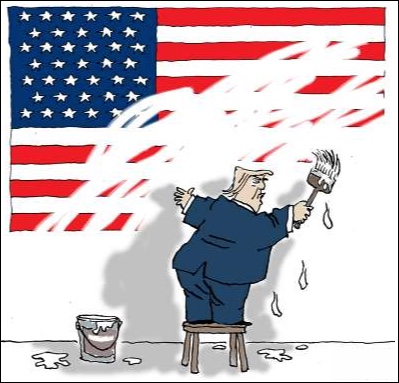 Trump continues to destroy democracy!
---
"Real patriotism is a willingness to challenge the government when it's wrong." (Ron Paul)
"Patriotism is supporting your country all the time, and your government when it deserves it." (Mark Twain)
This web site space is being generously donated by its owner to educate the thinking public on the "real" vs. "fake" facts about Trump and his administration so that voters can make more educated and informed decisions in the voting booth in the upcoming 2020 election than they obviously did in 2016.

Signed,
"Impeached Twitter Toddler" NON-SUPPORTER.
#NotMyPresident
#DumpTrump