AMERICA WINS WITH BIDEN!
Joe Biden is the best thing that has happened to the U.S. in the last four years.
He's a qualified and empathetic leader who has the confidence of the voters.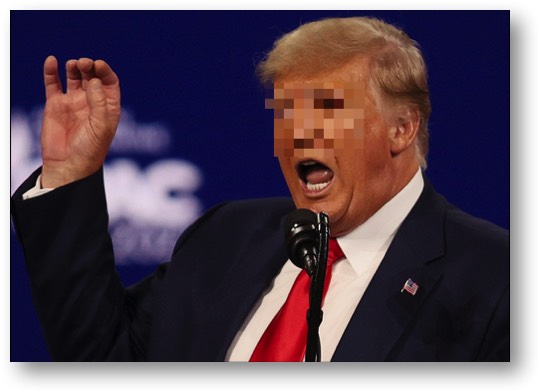 4/11/21


Trump, the mentally deficient, vindictive asshole, attacked Mitch McConnell
At the Republican National Committee donor retreat Saturday evening, Trump, the vindictive loser, attacked Senate Minority Leader Mitch McConnell, calling him a "dumb son of a bitch" and a "stone cold loser," and mocked
Elaine Chao,
McConnell's wife. He also said that he was "disappointed" in former Vice President Mike Pence, called last year's presidential election election a "fraud," and mocked esteemed Dr. Anthony Fauci. Much of Trump's speech was aimed at carrying on about ancient history — his losing election results — on which he remains fixated. This is not surprising. Remember, Americans,
Trump has the mentality of a toddler and the IQ of an idiot.
Trump is the laughing stock of American politics — an unqualified and twice-impeached "has been," and the worst president in all of American history.
The real losers, however, are the absolutely stupid, ass-sniffing, cult-following Republican donors who continue to follow this mentally deficient malignant narcissist.
The three-day event drew a number of potential 2024 GOP contenders, all of them thinking that their election chances could be improved by aligning themselves with this mentally deficient idiot. It would almost be laughable if they weren't such pathetic, brown-nosing cult followers without brains of their own.
---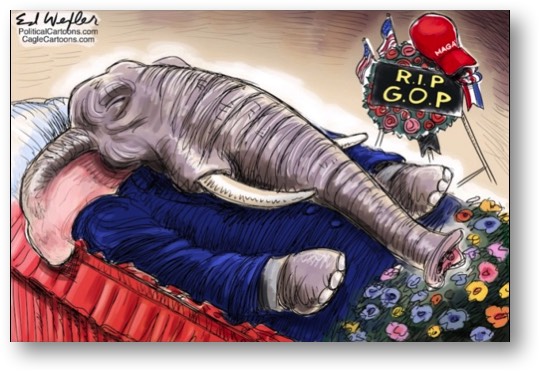 4/9/21


Without an Agenda, the Republican Party is Doomed!


Trumpism is not an agenda; it's a cult. And followers of this cult are doomed.

Trump's only claims to an agenda following his cataclysmic loss are his ongoing, worn-out and baseless claims of election fraud. That's not only fake news, but also old news made up of nothing but lies.
Trump's legal claims to the contrary were roundly rejected by the courts, including by Trump-appointed justices at the Supreme Court. Yet without a consistent party message following Trump's loss, without a clear policy agenda or a coherent strategy to expand the GOP's appeal, leading Republican elected officials and the Republican National Committee (RNC) have increasingly embraced election fraud as a chief policy priority. It's a shortsighted, losing proposition.
Republicans have nothing else to hang their hats on because their platform is bankrupt.


So Trump is headlining a closed-door fundraising retreat this weekend at the Four Seasons Resort in Palm Beach, FL where many of his ass-sniffing and cult-following legislators in the Republican party are expected to attend and open their wallets for the snake oil salesman.
These Republican legislators are either too stupid or too brainwashed to realize that there is no future in following a has-been loser.
Former RNC staffer Tim Miller said, "There was a real opportunity in this three-month window, from Jan. 6 to now, for the party to make a concerted effort to say, 'It's time to move on.' But they didn't choose to do that. This is who the party is."


The Republican Party is the party of losers!
---
---



More April, 2021 news here.

Archived News:
March, 2021
February, 2021
January, 2021
December, 2020
November, 2020
October, 2020
September, 2020
August, 2020
July, 2020

Older archived news:
Click the 'NEWS' dropdown menu
---
We're quite sure that Trump, the twice-impeached demonic cult leader, would not appreciate most of what's included on this web site. Do we care? Absolutely not because the real truth cannot be denied. We don't give a damn about anything Trump, America's #1 Loser, has to say or think. He already proved his absolute worthlessness and incompetence. Trump is nothing more than a "has been" embarrassment to the United States and to its citizens.

---
This web site space is being generously donated by its owner to educate the thinking public on the "real" vs. "fake" facts about Trump, the mentally deranged malignant narcissist, and his ignorant cult followers (aka "supporters").