Trump: The Serial Sexual Abuser
12/19/19

Let's also not forget, America, that so far TWENTY-TWO women have accused Trump of sexual misconduct
(see the names of those heroes below)
, and yet he still occupies the Oval Office!
Twenty-two women can't be wrong. This serial misogynist lacks both morals and decency; one who doesn't just talk about fondling women, but who bragged that he could "grab 'em by the pussy." And this admitted woman-groper also publicly supported the unsuccessful 2017 Alabama senatorial election of
Roy Moore
, a fellow woman-groper and also a deviate sexual abuser of adolescent girls. Yes, birds of a feather really do flock together. The women in France are right on by chanting in the streets, "
Balance ton porc!
" (Expose your pig!). All of these predatory pigs need to be exposed and ousted. The next victim could be your wife or daughter.
One of the most important questions to ask now is what kind of pathetic moral degenerates would continue their support for any of these deviate abusers, including Trump? Unfortunately, it says more about the sick mentality of Trump's
poorly educated supporters
than it does about the abusers.



Trump's Accusers
The following is a list of the 22
heroic women who have already accused Trump of sexual misconduct
(this is Trump's unchecked pattern of deviate sexual behavior that's been ongoing for over 33 years of his life):
▹
Jessica Leeds (in 1980)
▹
Ivana Trump (in 1989)
▹
Kristin Anderson (in early 1990's)
▹
Jill Harth (in 1992-1993)
▹
E. Jean Carroll
(mid-1990's)
▹
Lisa Boyne (in 1996)
▹
Cathy Heller (in 1997)
▹
Mariah Billado (in 1997)
▹
Temple Taggart McDowell (in 1997)
▹
Karena Virginia (in 1998)
▹
Bridget Sullivan (in 2000)
▹
Tasha Dixon (in 2001)
▹
Mindy McGillivray (in 2003)
▹
Jennifer Murphy (in 2004)
▹
Rachel Crooks (in 2005)
▹
Natasha Stoynoff (in 2005)
▹
Jessica Drake (in 2006)
▹
Ninni Laaksonen (in 2006)
▹
Samantha Holvey (in 2006)
▹
Summer Zervos
(in 2007)
▹
Anonymous (in 2010)
▹
Cassanddra Searles (in 2013)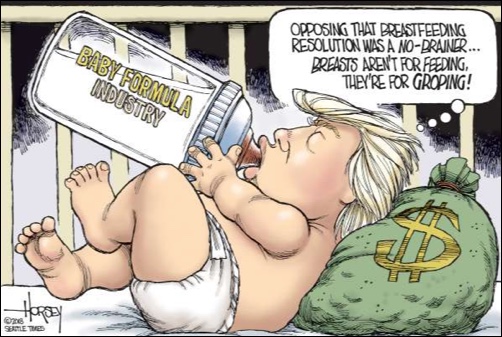 Trump supports all the men accused of being abusers
(e.g. Rob Porter, David Sorensen, Roy Moore, Corey Lewandowski, Roger Ailes, Bill O'Reilly, Steve Bannon, etc.), but as Rep. Kathleen Rice (D-N.Y.), former district attorney, said, "
He never believes the women
—
he can't. Donald Trump's presidency is built on people not believing women. If people started believing women, maybe they'd think about believing any of the dozen-plus women who have accused Donald Trump of sexual assault and harassment." But
Trump has said their stories don't matter
. The White House has adopted that as its official line too. Read the story
here
.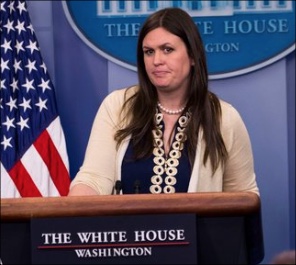 On 12/19/19, after the televised Democratic debate, former White House press secretary Sarah Huckabee Sanders mocked Joe Biden's comment about talking to and helping a child who suffers from stuttering, as he does himself, by tweeting, "I I I I I I I I I I I I I I I hhave absolutely no idea what Biden is talking about." Biden responded, "
I've worked my whole life to overcome a stutter. And it's my great honor to mentor kids who have experienced the same. It's called empathy. Look it up.
"
White House press secretary Sarah Huckabee Sanders, from her typical twist, turn, deny and deflect pulpit said, "The people of this country, at a decisive election, supported President Trump, and we feel like these allegations have been answered through that process. The American people knew this and voted for the president, and we feel like we're ready to move forward in that process."
Sorry, Sarah, but the voting majority didn't support Trump, sexual allegations are never rectified through the voting booth, and the citizens of this country are not ready to simply drop the allegations and charges against Trump. Each of these women deserves to face their perpetrators and to tell their story with their day in court.
On 8/5/18, conservative Washington Post columnist Jennifer Rubin tore into White House press secretary Sarah Huckabee Sanders, saying
Sarah should be shunned from her next job
for her false and misleading claims. Rubin said Sarah "attacks our free press and no respectable employer should hire her after this term. Also, no university and no news outlet. She has lied and she has endangered the lives of reporters and that's why she should be shunned. Not harassed - shunned."
Trump is morally unfit to represent the people of the United States and to sit in the Oval Office.
Trump's $130,000 Payoff to a Porn Actress
05/07/18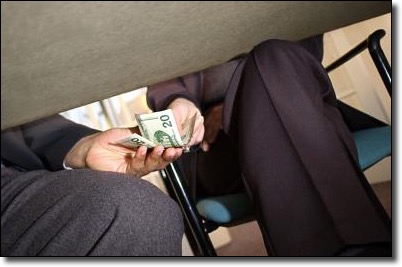 Stop the presses! On 4/5/18, Trump said that he did not know where his attorney and "lying fixer," Michael Cohen, got the money, and he didn't know that Cohen paid $130,000 to porn actress Stormy Daniels. Read the story
here
.
However, on 5/2/18, Rudy Giuliani, one of Trump's newest attorneys, said that
Trump repaid Cohen the $130,000
for the hush agreement with the porn actress, but emphasized the payment did not involve campaign funds. Then on 5/6/18, Giuliani said that it was possible that Cohen may have
paid off other women
for Trump as well, "if it was necessary." Necessary? At what point do we normalize Trump's immoral behavior so that hush money payoffs become either acceptable or "necessary?"
---
The rest of the story….
On 1/12/18, the Wall Street Journal reported that Trump's private lawyer, Michael D.
Cohen
, arranged for a $130,000 payment (through a
private Delaware company
and a pseudonym) a month before the election to silence
Trump's 2006 affair
with
porn actress
Stormy Daniels. Interestingly, no one has heard a peep from Melania about this since this revelation. Maybe she's too busy interviewing prospective divorce attorneys.
On 2/13/18,
Cohen
claimed he personally made the $130,000 hush money payoff out of his own pocket, as if the source of the payment somehow was the real issue at hand. Nice, but unsuccessful, attempt by one of Trump's henchmen at deflecting and projecting once again! This isn't about the money; it's about there being a moral degenerate in the Oval Office. This sexual abuser is unfit to hold any office that represents the people of the United States!
On 2/14/18,
Cohen declined to answer
questions about whether Mr. Trump had reimbursed him, whether the two men had made any arrangement at the time of the payment, or whether he had made any payments to other women or accusers of the president. So here we go again
—
another one of Trump's flunkies tap-dancing and back-pedaling to cover up yet another of Trump's misdeeds.
Charles Wolfram
, an emeritus professor of legal ethics at Cornell University, said,
"Lawyers don't go around giving $130,000 to strangers, benefiting their clients, without billing their clients." Incidentally, Cohen went to the
worst law school in America
, the Thomas M. Cooley Law School in Lansing, Michigan, a school that had to go to court during the past year to fight for its accreditation from the American Bar Association.


Stormy Daniels
(real name: Stephanie Clifford) is now offering to sell her story to media outlets so that she can tell her version of the events, and as of 3/7/18 Cohen is trying to silence her by obtaining a
secret restraining order
in a private arbitration. We think the citizens of America should set up a "Go Fund Me" page to fund Stormy Daniels' legal fees so that all of America can hear both the truth and the rest of the story.

On 3/14/18,
The Hill
reported that Stormy Daniels' attorney, Michael Avenatti, said that
multiple women
have contacted him about representing them in legal cases against Trump.
INDICT TRUMP NOW!
Trump's Second Affair Scandal with Playboy Playmate
03/20/18
On 2/16/18,
The New Yorker
magazine published a report from ex-Playmate of the Year Karen McDougal detailing her
nine month affair with Trump
from June, 2006 to April, 2007, when Trump was two years into his marriage with Melania and their son Barron was just a few months old. A White House spokesperson denied the affair and said, "This is an old story that is just more fake news." Uh, huh.
On 3/20/18,
McDougal filed suit
to be freed from a $150,000 deal she made with American Media, Inc., the company that owns the National Enquirer, to remain silent about the affair.