Trump: Both a Domestic and International Bully
04/03/20
The Domestic Bully

Bullies are childish name-callers. Trump, being both immature and having no class whatsoever, leads the list of being nothing but a lower than low, childish name-caller of both his former associates and his foes.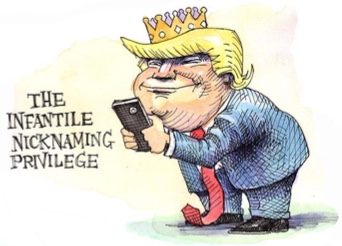 "The greater a person's sense of guilt, the greater his need to cast blame on others."
(the late Bob Collins, from his last radio show on 2/8/2000)


Here's a list of just some of Trump's juvenile name-calling since he took office:

"Sleepy Joe" = Joe Biden

"Dumbo" = Randolph D. Alles, the retired Marine major general who was ousted from the position of Director of the Secret Service by the low class bully in the Oval Office

"Rocket Man" = North Korean leader Kim Jong Un

"Sloppy Steve" = Steve Bannon, former top Trump aide

"Crooked Hillary" = Hillary Clinton

"Dumb as a rock Mika" & "bleeding badly from a facelift" = Mika Brzezinski,

Morning Joe

host

"Leakin' James Comey" & "Untruthful Slimeball" (on 4/13/18) = James Comey, former FBI director

"Deface the Nation" = Face the Nation

"Wacky Congressman Wilson" = Representative Frederica Wilson of Florida

"Crazy Megan" = Megan Kelly, NBC News Host

"Liddle' Bob Corker" = Senator Bob Corker of Tennessee

"Big Luther" = Luther Strange, former Alabama Senator

"Pocohantas" = Senator Elizabeth Warren of Massachusetts

"Cryin' Chuck Schumer" = Senator Chuck Schumer of New York

"Clinton News Network" and "Fake as Hell" = CNN

"Low Energy Jeb" = Jeb Bush, former governor of Florida

"Lyin' Ted" = Senator Ted Cruz of Texas

"Psycho Joe" = Joe Scarborough,

Morning Joe

host

"Crazy Bernie" = Senator Bernie Sanders of Vermont

"Jeff Flakey" = Senator Jeff Flake of Arizona

"Sleepy Eyes Chuck Todd" = Chuck Todd,

Meet The Press

host

"Al Frankenstein" = Al Franken, former senator from Minnesota

"Puppet Jones" = Senator Doug Jones of Alabama

"1 for 38 Kasich" = John Kasich, governor of Ohio

"Sneaky Dianne" = Senator Dianne Feinstein

"Little Marco" = Senator Marco Rubio of Florida

"The Amazon Washington Post" = The Washington Post

"The Failing New York Times" = The New York Times

"Little Katy" = Katy Tur, NBC News Reporter

"Dickie Durbin" = Senator Dick Durbin of Illinois

"Little Pencil Neck" and "Little Adam Schiff" and "The Leakin' Monster of No Control" = Representative Adam Schiff of California

"Lamb the Sham" = Conor Lamb, Democratic candidate for Congress in Pennsylvania's 18th congressional district

"A Low IQ Individual" = Maxine Waters (D-CA), U.S. Representative for California's 43rd congressional district and the most senior of the 12 black women currently serving in the U.S. Congress

"Sleeping Son of a Bitch" =

Chuck Todd

, host of

Meet the Press

, the longest running and most respected program on television (since November 6, 1947)

"Little Jeff Zucker" = CNN president

"Crazy Jim Acosta" = Jim Acosta, CNN's White House correspondent

"Jerry 'Moonbeam' Brown" = California Governor Jerry Brown

"Cheatin' Obama" = President Barack Obama

"Animal Assad" = Syrian president Bashar al-Assad

"That Dog" = Omarosa Manigault Newman, Trump's former top African-American White House aide

"Mad Dog," then "Moderate Dog" = Defense Secretary James Mattis

"Crazed & Stumbling Lunatic" = Billionaire Democratic activist, philanthropist and former hedge fund manager,

Tom Steyer

, who was a target of one of the pipe bombs sent by Cesar Sayoc to critics of Trump

"Dumb as a rock" and "lazy as hell" =

Rex Tillerson

, Trump's first Secretary of State

"Crazed Lunatics," "Fake News," "Enemy of the People," "the Opposition Party" = the media

"That face" = Carly Fiorina

"Da Nang Dick" = Senator Richard Blumenthal, second-term Connecticut Democratic senator who serves on the Senate Judiciary Committee

"Wacky Nut Job" = Ann Coulter, conservative pundit

"Washed up psycho" & "sick scammer" = Bette Midler

"Sleazebag Attorney" = John Dean,

former White House counsel for President Nixon who proved pivotal during the Watergate scandal

"The Forgotten President" and "Terrible" Jimmy Carter = former president

Jimmy Carter

"Lame Duck," and "ineffective" and "stupid" = former House Speaker

Paul Ryan

, who retired in January, 2019, and who authored a new, revealing book about the Trump administration, titled

American Carnage

"The Dumbest Man on television" =

Don Lemon

, CNN host

"LameStream Media" = MainStream Media

"Face of a Pig" = Gail Collins, New York Times columnist

"Horseface" =

Stormy Daniels

"Impeachment King Steyer" = Tom Steyer, businessman and 2020 presidential hopeful

"Crazy Bernie" = Bernie Sanders, 2020 presidential hopeful

"Mini Mike" = Michael Bloomberg, ex-New York mayor, billionaire, and 2020 presidential hopeful

"The woman in Michigan" = Michigan Governor Gretchen Whitmer

In his 3/11/18 interview with Chuck Todd on
Meet the Press
, Trump's Treasury Secretary
Steve Mnuchin
unconvincingly responded to Chuck Todd's questioning about Trump's harsh rhetoric and trashing people by saying to pay no attention to what the president says, it's just "campaign" talk. "The president likes making funny names." Campaign talk? Trump's not campaigning. Funny names? Hardly. This is a clear sign of the immature bully that we have as president. Nothing more, nothing less.

Here's one Trump should be able to understand, even considering his pre-pubescent mentality:
Sticks and stones may break my bones, but names will never hurt me.
Melania, please come and get your little bully boy. He needs his bottle and an afternoon nap.


---
The International Bully

On 1/2/18, the White House schoolyard bully once again
unnecessarily
taunted North Korean leader Kim Jong Un, stating on
Twitter
: "Will someone from his depleted and food starved regime please inform him that I too have a Nuclear Button, but it is a much bigger & more powerful one than his, and my Button works!" What was he thinking? Or was he thinking?
There is no gain whatsoever in one unstable idiot provoking another unstable idiot with the threat of nuclear war, and tweets like this only further magnify Trump's rapidly declining mental state.


Trump "speaks English as though it is a second language that he learned from someone who learned English last week." (George Will)