Madman Trump is at it again
07/19/19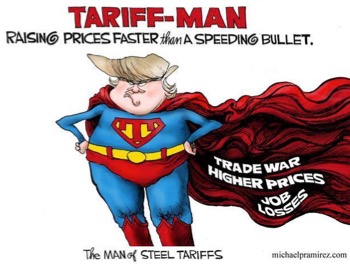 The DOW futures plummeted more than 200 points in May, 2019
after "wanna be king" Trump announced plans to impose tariffs on Mexico until the flow of immigrants to the southern U.S. border is cut off. If we've said it once, we've said it a thousand times: tariffs are nothing more than a
tax on American citizens
collected at the border.
Punitive action by a president against fellow Americans is unconscionable. This is not "government of the people, by the people, for the people" as defined in Abraham Lincoln's Gettysburg Address.
Trump has become the "enemy of the people"
— nothing more, nothing less. The time for him to be ousted is long overdue.
On 7/19/19,
Jim Cramer
of CNBC's
"
Squawk on the Street
"
said companies are blaming Trump's use of tariffs, not Federal Reserve rates, as the reason behind the slowing U.S. economy.
Trump's Tariffs Stung Consumers While Benefiting Large Corporations
04/22/19
This is a case study in how a measure intended to help domestic factory workers has rebounded negatively on American consumers, creating unexpected costs and leaving shoppers with a sky-high bill for every factory job created. Read it
here
. Washing machines and dryers are now
costing American citizens on average 12% more
than before Trump's tariffs were imposed. We have said it over and over that
tariffs are nothing more than taxes on Americans collected at the border
. This is proof.
Trump's Tariffs Are Moving American Jobs Offshore
01/07/19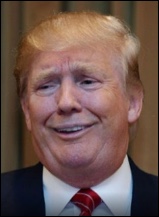 Trump's Tariffs Are Moving American Jobs Offshore
! We have repeatedly said that tariffs are only taxes on Americans collected at the border. Now we're seeing the truth in that statement.

EBW Electronics in Holland, Michigan, a manufacturer of lights for the auto industry, is seriously considering moving its operations to Mexico to escape Trump's tariffs. Pat LeBlanc, the company's CEO and a Republican who voted for Trump, said Trump's tariffs will chop his 2019 profits in half, and
LeBlanc feels betrayed by Trump
! Cory Steeby, EBW's president, said, "It totally incentivizes you to move out of the United States and build either in Canada or Mexico."

At Bilco Products, a furniture manufacturing company also in Holland, MI, costs have increased 10% since the tariffs were put in place, but the company has not been able to pass those costs on to its customers.

All across the United States, such complaints are intensifying as the trade war disrupts factory operations that depend on imported parts.


Who's solely responsible? One person: Trump.
Trump's Shortsighted, Backfiring Tariffs Only Hurt Americans
09/22/18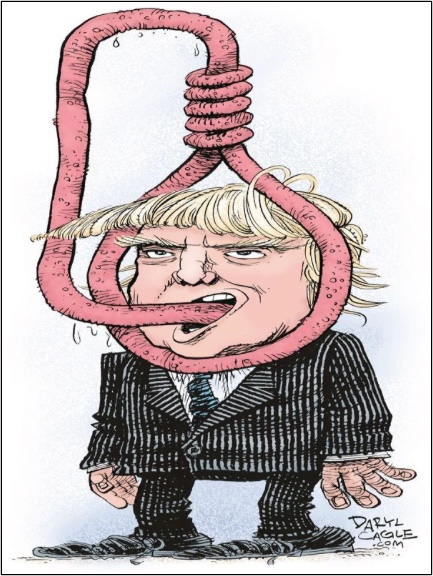 Tariffs: Taxes on Americans that are collected at the border.


The citizens of America are Trump's collateral damage.

Trump has proven that he has no plan whatsoever. He shoots from the hip and ignores the advice of experts on both sides of the aisle. He makes decisions based on his abnormal, altered sense of reality and on his own ignorance of the facts. On 5/3/18,
1,100 economists have warned Trump
that his recent trade tactics are repeating one of the biggest mistakes of the Great Depression. Included on the new letter are 14 Nobel laureates and economists from across the political spectrum, including former chairs of the Council of Economic Advisers under three presidents. The letter warns that tariffs raise prices on consumers, damage industries that rely on trade directly or indirectly, hurt the fortunes of American farmers, and lead to retaliatory measures from other countries.
Very predictably, Trump's policy decisions have already
undermined the industries
he has pledged to help.


On 4/5/18, Trump considered slapping
$100 billion in additional tariffs
on China. Beijing retaliated, slapping 25% tariffs on imports of U.S. soybeans, corn, airplanes and automobiles that total $50 billion worth of goods. Senators on both sides of the aisle are outspoken in their opposition to Trump's actions. Republican Senator Ben Sasse (R-Neb.) said that Trump is "threatening to light American agriculture on fire."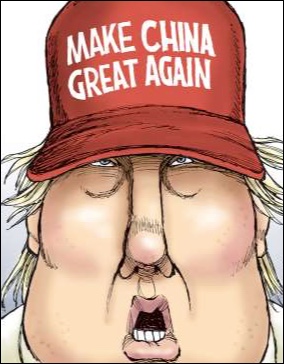 Trump's tariffs weren't exclusive to China. They include other ally countries as well, including Canada, our most important ally and defense partner. On 6/1/18,
Canada announced that it would impose retaliatory tariffs
on $12.8 billion worth of goods from the United States beginning July 1st.
Prime Minister Justin Trudeau
said the tariffs are designed to defend Canada's interests and to
send a message
to the Trump administration, and would remain in effect until the United States removes the steel and aluminum restrictions. The states that will be hardest hit in the U.S. will be Ohio, Michigan, New York, Pennsylvania and Illinois.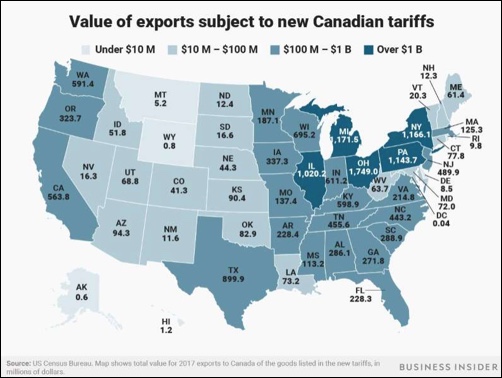 Once again, Trump's snap decision-making is only hurting American companies and American workers! Any and all gains we've seen in the stock market under this idiot have unnecessarily dissolved into thin air. Trump said the stock market might take
a bit of a hit
in the short term while also stating "We've already lost the trade war." A bit of a hit? The
DOW closed down
another 459 points (1.9%) on the day of Trump's announcement, while the S&P 500 index fell 2.2%, and the Nasdaq fell 2.7%; Tyson Foods slumped 6%, while Caterpillar fell 2.4%. On 4/6/18, the DOW fell an additional 572 points (2.34%), the S&P 500 index fell 2.19%, and the Nasdaq fell 2.28%. The very least the citizens of this country can expect is competence from their leaders. This, on the other hand, is what we get with an
unchecked, incompetent idiot
in charge.

Trump's continuous pattern has been to outline a plan with scant concern and little to no preparation for its immediate impact or consequences, and to make changes on the fly with the same lack of planning. The results have consistently been to inflict painful and unexpected consequences on Americans' lives.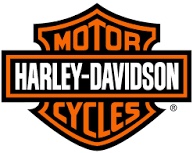 The latest example of Trump's tariffs hurting the citizens of America is the announcement by Harley-Davidson that it is moving some of its manufacturing out of the United States specifically because of the negative effects of the tariffs on its sales and profitability. After Harley-Davidson's announcement, Trump had the nerve to negatively lash out at this iconic company, saying,
"Don't get cute with us."
This is not Harley-Davidson "waving the white flag," as Trump contends, but rather another example of the negative effect of Trump's inability to govern. Harley-Davidson has been successfully managing its business for 115 years.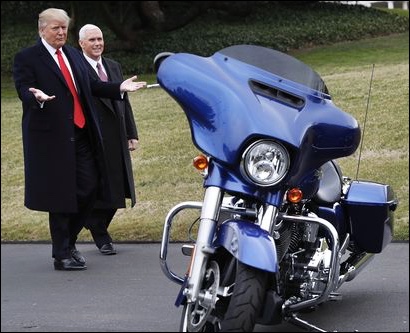 Other
companies reporting losses
as a direct result of Trump's tariffs:
General Motors
General Electric
Ford
Fiat Chrysler
3M
Whirlpool
Hasbro
Honeywell
Restoration Hardware
Coca-Cola
Qualcomm
As of 6/29/18,
Trump's tariffs are already penalizing the American citizens
who want to buy
numerous products
, including the following:
Motorcycles

Jack Daniels

Jeans

Cranberries

Peanut Butter

Soybeans

Roasted coffee

Toilet paper

Strawberry jam

Maple syrup

Mayonaise

Ketchup

Licorice

Cucumbers and gherkins

Hair lacquers

Manicure and pedicure preparations

Organic face washes

Automatic dishwasher detergent

Playing cards

Ballpoint and felt tip pens

Inflatable boats

Plywood

Cast iron grilles

Refrigerator-freezers

Mattresses

Sleeping bags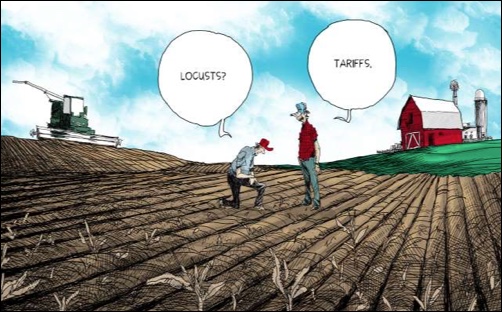 The one and only positive effect of Trump's tariffs is that China, Europe, Canada and other nations have responded to Trump's trade actions with retaliatory tariffs directed specifically at businesses in parts of the country that have hotly contested midterm election races. This will inevitably have the positive effect of causing voters to vote Democratic in the mid-term elections!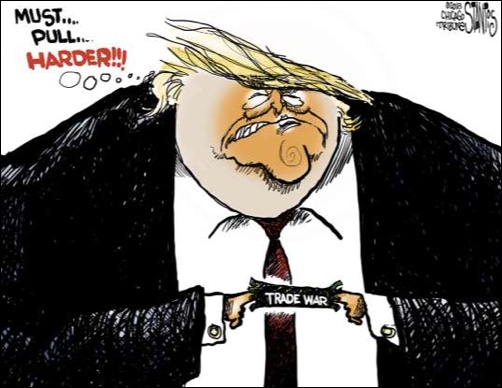 On 8/7/18, Element Electronics, a consumer electronics company in South Carolina, said it will be
closing its plant in Winnsboro due to tariffs
imposed by President Trump.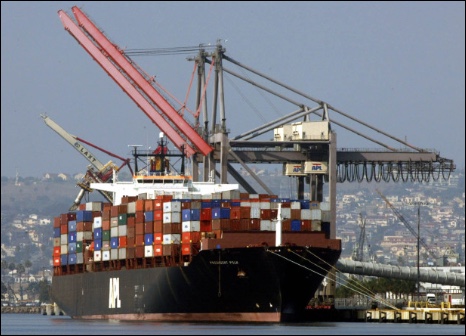 Tariffs are yet another way that incompetent Trump is supposedly working on behalf of American citizens: taxing
us
at the border!


Those who continue to support Trump are living proof that stupidity is not illegal in America!