March 27
03/27/20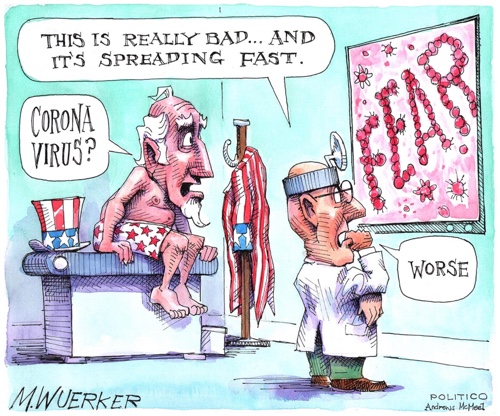 Trump Failed to Follow NSC's Pandemic Playbook


According to a previously unrevealed White House playbook, the government should have begun a federal-wide effort to procure that personal protective equipment (PPE) at least two months ago, but it didn't. The 69-page National Security Council's document, finished in 2016, provided a step by step list of priorities – which were then ignored by Trump and his administration.

The playbook's recommendations include that the government move swiftly to fully detect potential outbreaks, secure supplemental funding and consider invoking the Defense Production Act — all steps in which the Trump administration lagged behind the timeline laid out in the playbook.

Multiple times throughout the 3/27/20 press briefing, Trump claimed the current situation was unprecedented and unforeseen. According to Trump, "nobody was prepared for this," not even past presidents. He added, "In all fairness to all of the former presidents, none of them ever thought a thing like this could happen." That's more of Trump's lies! In reality, the US intelligence community and public health experts had warned for years that the country was at risk from a pandemic. Experts had also warned that the country would face shortages of critical medical equipment, such as ventilators, if a pandemic occurred. Read the proof here.

Trump is now trying to portray himself as a "wartime president" and hero who is in control. In reality, Trump is a dismal failure who failed to prepare, and then failed to react in a timely fashion. He's trying to portray the coronavirus as the enemy when in fact he is the real enemy of the people. All of Trump's actions since this virus spread to our shores have proven that his primary interests are in how it affects his personal image and how it affects his chances for reelection in November.
March 26
03/26/20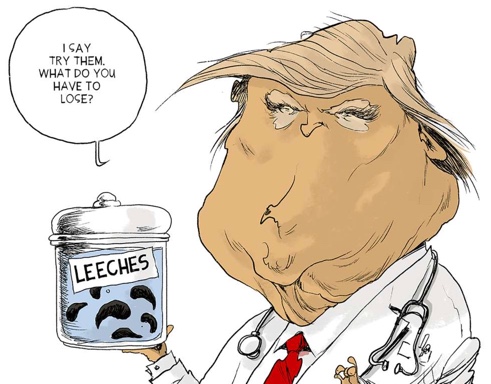 Trump now tries to play Medical Expert

Trump said restrictions on economic activity could be lifted in some parts of the country but not others as his administration works to develop a plan for how Americans could return to work in a few weeks without exacerbating the spread of the new coronavirus in the U.S.

Thank goodness, Americans, that the federal government's ability to force the reopening of the economy is limited, as much of that power rests with state governors and mayors who collectively have common sense since they look to the medical experts for guidance, and not to an uninformed and self-serving idiot who's only decision-making is based on his ratings and re-election chances.

"You don't make the timeline. The virus makes the timeline." (Dr. Anthony Fauci, director of the National Institute of Allergy and Infectious Diseases)