March 31
03/31/22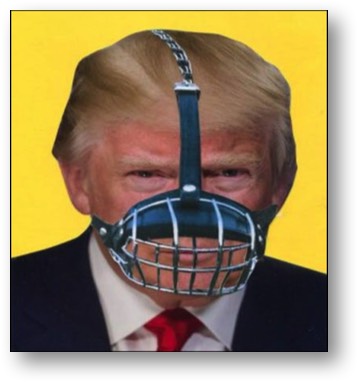 This Traitor Should Be Muzzled!
CNN
has reported that
Trump
is once again putting his personal goals and burning zeal for revenge above the national interest
— as he once more appeals for Putin's political help in the midst of his brutality in Ukraine.

As
CNN
reported, "Trump's call on the Kremlin strongman to dig up dirt on President Joe Biden is no surprise. He's called on Russia and China before to interfere in US elections to boost his chances and got impeached for trying to blackmail Ukraine to do the same."


Someone needs to put a muzzle on this traitor to America.
March 30
03/30/22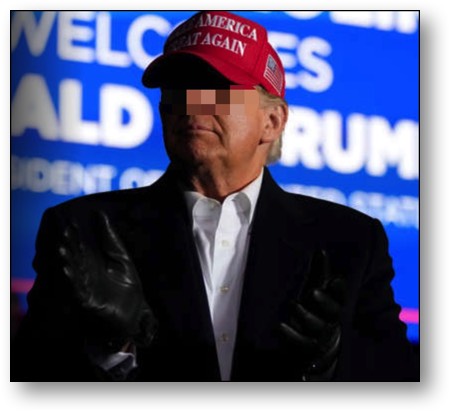 Crawl back into the hole you came out of, Donnie!


Trump
called on Russian dictator Vladimir Putin to release information regarding alleged dealings between Eastern European oligarchs and Hunter Biden, President Joe Biden's son.
Donald Trump is a Putin ass-sniffer!
45's remarks, in an interview with
discredited far-right journalist John Solomon
, were published Tuesday by the "Just the News" television show on the Real America's Voice network. Vindictive 45 has repeatedly promoted dubious claims of Hunter Biden's foreign business dealings with Moscow's late mayor, Yury Luzhkov.

45 failed to mention that he himself sought to do business with Luzhkov's government in the late 1990s. He was also pursuing high-profile real estate deals in Russia as recently as 2016.


So go crawl back into the hole you came out of, Donnie! Trump is a traitor to America who needs to be tried, convicted, and then prosecuted to the full extent of the law!
March 29
03/29/22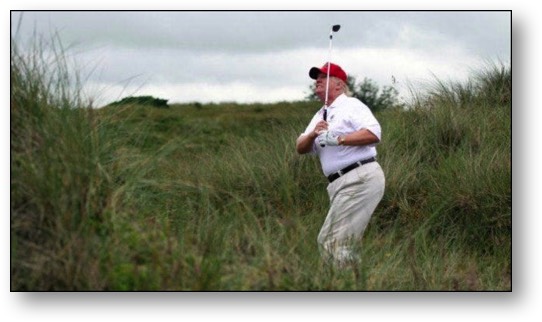 Trump claims he got a hole in one


Trump
touted in a statement hitting a hole-in-one on the seventh hole while playing at his golf club in West Palm Beach, FL, on Saturday after some social media users questioned his abilities. Trump was playing with Hall of Fame golfer Ernie Els, Gene Sauers, Ken Duke and Mike Goodes. "These great tour players noticed it before I did because their eyes are slightly better, but on that one hole only, their swings weren't," Trump said.

We say maybe a hole in TEN!


Trump ended his statement by saying he wouldn't disclose who won the game. "I won't tell you who won because I am a very modest individual, and you will then say I was bragging — and I don't like people who brag!" he said.
The biggest braggart in America doesn't like people who brag! Yeah, right!
March 28
03/28/22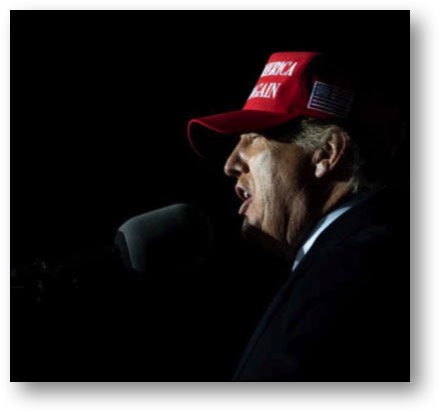 Low-IQ Trump praises Putin again
Trump, the most ignorant past president in all of American history and America's biggest LOSER, is also a traitor to America.

This past Saturday night at his "revenge tour" rally in Georgia, where he was the first Republican presidential candidate to lose the state in 28 years, Trump once again praised Putin, referring to him as "smart." Putin is a demonic war criminal; he is not smart.


Trump also had warm words for China's president
Xi Jinping
and North Korean dictator
Kim Jong-un
and referred to such leaders collectively by saying: "The smartest one gets to the top."

Trump spoke admiringly of Xi in terms of the fact that he "runs 1.5 billion people with an iron fist" and referred to Kim as "tough." Regarding Putin, Trump told the crowd: "They asked me if Putin is smart. Yes, Putin was smart." Trump also praised Russia's strategy of a huge accumulation of military force on its border with Ukraine prior to invading.


If asshole Trump loves Putin and Russia so much, he should do us all a favor and move there!


Incidentally, while Trump bragged (i.e. lied) about the "massive" crowd that turned out to see him at Saturday's rally,
two experienced journalists on the scene said the
rally was the "smallest"
they had seen in years. Reporters said the size of the crowd was notably underwhelming.
Trump continues to lie, wrongly thinking he can change reality with those lies.
March 27
03/27/22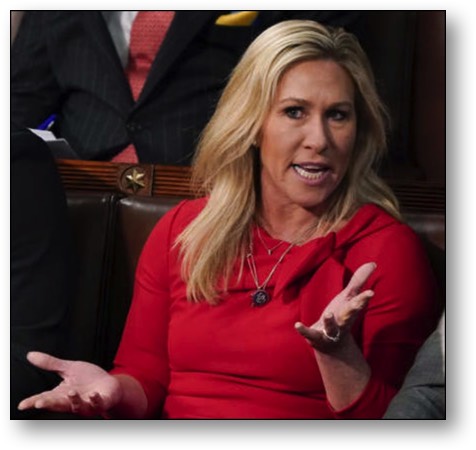 The Worthless QAnon Bitch believes
Zelenskiy is corrupt
Republican Rep. Marjorie Taylor Greene, the worthless QAnon Bitch, is at it again, agreeing with another worthless Republican, Rep. Madison Cawthorn, that Volodyñmyr Zelenskiy is "corrupt." Like Trump, her mentor, many of Greene's statements have echoed Putin's talking points about the war, such as, "It's shocking to me that Congress is so willing to funnel $14 billion in military equipment over and over again into Ukraine and you have to ask, is this money and is this United States military equipment falling into the hands of Nazis in Ukraine?"


Zelenskiy is not a Nazi, but Greene's cult followers, who listen to her senseless babble, only hear what this wanna-be celebrity has to say.

Remember, Americans, Greene is the one who spread COVID misinformation from her congressional platform, resulting in Twitter suspending her personal account four separate times until they finally shut her down permanently.

Greene is the one who continues to promote Trump's baseless claims about election fraud, even though multiple recounts, audits, and lawsuits revealed no such fraud.

Greene is the one who
made two tweets last July in which she stated that vaccines shouldn't be a requirement and that Covid was only dangerous for those under the age of 65 if they were obese.


Greene is the one who claimed
Black Lives Matters is a terrorist and communist group, calling it a "radical Marxist group."


Greene is the one who said that Democratic Representative Maxine Waters from California is a violent criminal since she participated in 'Black Lives Matter' protests in response to the police shooting of Daunte Wright in Minnesota.

Greene is the one who paired up with Florida Representative Matt Gaetz, who is at the center of a sex-trafficking investigation, to hold pro-Trump rallies across the country, without Trump, to peddle lies and conspiracy theories about the 2020 elections and the coronavirus.

Greene is the one who, just one month into her term of office, was stripped of two congressional committee assignments because of her promoting conspiracy theories and endorsing political violence.

Greene is the one who wrote 59 articles for 'American Truth Seekers,' a website dedicated to conspiracy news.

Greene is the one who held the position of a top official of the 'Family America Project.' Founded in January of 2018, the group identifies itself as "Uniting America's Pro-Trump, America First Patriots and Groups nationwide, creating organized, powerful and effective Strike Forces in each state."

Greene is the one who promoted the 'Pizzagate' conspiracy theory, believing that Hillary Clinton ran a child trafficking ring based in a DC pizzeria.

Greene is the one who bought into the QAnon belief claiming that the 2018 Camp Fire wildfire in California was started by a wealthy Jewish family who used laser beams in space to start the fires.

Greene is the one who wrote on Facebook that the Marjory Stoneman Douglas High School shooting in Parkland, Florida, was a fake, as was the 9/11 attack on the World Trade Center.

Greene is the one who followed David Hogg, a survivor of the Parkland school shooting, down the street, harassing him and calling him a "coward."

Greene is the one who has paranoid ideas related to the pandemic, posting on social media about how the virus isn't dangerous and claiming mask mandates are "Democrat tyrannical control" tactics.


Marjorie Taylor Greene is nothing but a racist and a fascist "nut job" — ignorant congressional "trailer trash" who is not fit for office.
March 26
03/26/22

The Twice-Impeached LOSER continues his bogus claims
Newsweek
reported that angry Trump is heading to Georgia on Saturday for his worthless and ongoing efforts
to pressure Georgia's Republican leaders to overturn the 2020 elections.
What a lunatic, living in his own twisted reality.
In the aftermath of his presidential election defeat in Georgia, Trump pressured the state's Republican leaders — Governor
Brian Kemp
and Secretary of State Brad Raffensperger — to overturn President
Joe Biden
's overwhelming victory.

Georgia's Fulton County's District Attorney Fani Willis got approval in January from the local Superior Court to seat a special grand jury with subpoena power as her office investigates Trump's effort to interfere in the state's 2020 election. The grand jury will be seated on May 2. After news of the grand jury broke, Trump doubled-down on his false claims about Georgia's election results.
Like a "pull-cord bobble-head toy" with a limited vocabulary, vindictive Trump continues with his baseless
claim
that the 2020 election was "rigged" or "stolen"
in favor of Biden, saying, "Before we can defeat the Democrat socialists and communists ... we first have to defeat the RINO sellouts and the losers in the primaries this spring."


Trump is an asshole, and his ignorant supporters are even more so.
March 25
03/25/22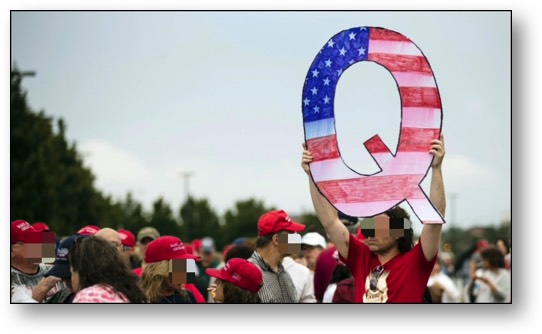 QAnon PIGS
cheer Republican attacks on Supreme Court Justice Nominee


As
Trump cultist Senator Josh Hawley
tweeted his twisted and conspiratorial thoughts about the confirmation of Judge
Ketanji Brown Jackson
for the Supreme Court, the fringe QAnon pigs in America sprang into action, calling Judge Jackson "an apologist for child molesters."


Turncoat Republican Senator Lindsey Graham
, who voted last year to confirm Judge Jackson to an appeals court, joined other Republican Trump cultists this week in their line of attack, saying, "
Every judge who does what you are doing is making it easier for the children to be exploited."
These ignorant QAnon members and Trump cultists need to work on increasing their low IQs.
March 24
03/24/22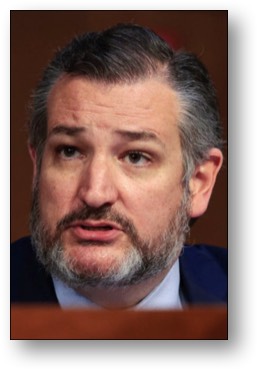 Ted Cruz — Worthless Social Media Whore!


Remember Ted Cruz, the Republican senator who jetted off to Cancun
as millions of his fellow Texans froze because of historically low temperatures and widespread power outages in February of 2021?
Well, yesterday, after Cruz
went beyond his allotted time with his attacks on Supreme Court Justice nominee Judge Ketanji Brown Jackson, and drew a
gavel
from Senate Judiciary Committee Chairman
Dick Durbin
(D-Ill.), which led to a testy exchange between the two,
Cruz was caught on camera by Los Angeles Times reporter Nolan D. McCaskill searching Twitter for his mentions.
Cruz's grandstanding is all about self-aggrandizement for the cameras and to cut campaign ads.

@Fly_Sistah on Twitter said it best:
"They want to be seen denigrating an eminently qualified Black woman Supreme Court Justice Nominee, Judge Ketanji Brown Jackson, not based on her career or qualifications, but to get retweets & likes. It's disgusting."


Brian Klass said,
"We have designed systems of power in which many of the people who rule over us don't care at all about improving lives or solving problems, but only care about fame, power, social media stardom, and performative narcissism. It's an utterly broken system."


Rachel Barkow tweeted,
"If you needed proof the Cruz line of questioning was all political grandstanding, here you go."
The likes of Cruz are the kinds of worthless Republicans we now have in Congress.
March 24
03/24/22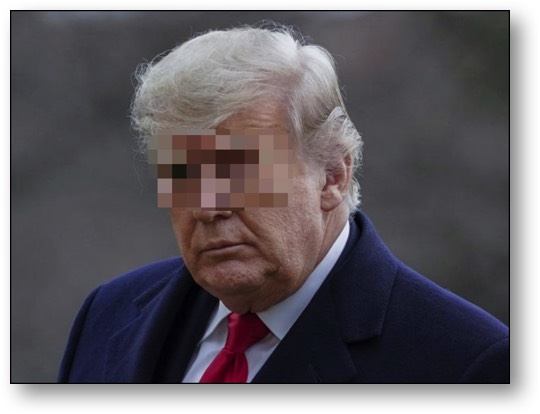 Trump's guilty beyond a reasonable doubt
New York Attorney General Letitia James has Trump in her sights. Mark Pomerantz, the former co-leader on the Trump probe, told District Attorney Alvin Bragg there was
"evidence sufficient to establish Mr. Trump's guilt beyond a reasonable doubt"
of allegations he
falsified financial statements
to secure loans and burnish his image as a wealthy businessman.

"The team that has been investigating Mr. Trump harbors no doubt about whether he committed crimes — he did," Pomerantz wrote.


It's time for twice-impeached Trump to be tried and prosecuted for his crimes. Trump is not above the law.
March 23
03/23/22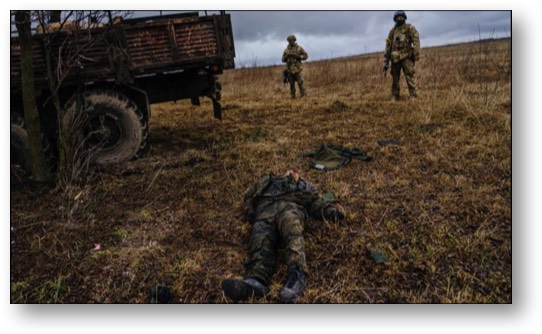 The Kremlin lies to its citizens as Russian bodies pile up in Ukraine
Malevolent Putin is lying to his citizens.
The official line from Russia's defense ministry was 498 military personnel killed until Monday, when
pro-Putin Russian tabloid
Komsomolskaya Pravda
published a report that updated the Russian death toll to 9,861
. That figure was later retracted by the paper, which said that it was hacked. Ukrainian officials have claimed the toll is even higher, so far at more than 15,000.


The Ukrainian government has claimed that the Russian army sent mobile crematoriums to burn their own dead. "They're not going to show the bodies to their families. They're not going to tell the mothers that their children died here," Ukrainian President Volodymyr Zelensky told reporters.

The evil bastards in the government of Russia have passed a new law criminalizing any reporting that contradicts the Kremlin's lies, so tallying up the real number of Russians killed in Putin's war is difficult at best.
March 23
03/23/22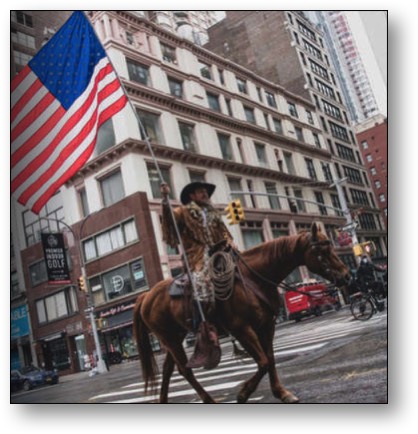 "Cowboys for Trump" leader is convicted

Newsweek
reported that Couy Griffin, the founder of "Cowboys for Trump" and
an Otero County, New Mexico, county commissioner, was convicted by a Trump-appointed U.S. District Court judge of illegally entering the U.S. Capitol during the January 6 riot. Griffin is one of at least 10 people charged in the riots who were either holding a government office at the time or had recently run for one.


Griffin was disappointed that neither
Marjorie Taylor Greene
, the QAnon bitch, nor Trump cultists
Louie Gohmert
or
Matt Gaetz
were present at his trial. What was he thinking? Greene, Gohmert, and Gaetz take their lead from Trump — they'll encourage others to rise up during an insurrection, but then run the other direction and let others take the fall — a typical Trump response.
March 20
03/20/22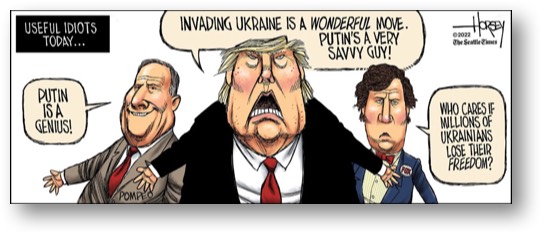 Some of Trump's Republican Cultists Praise Putin


One persistent wing of the Republican party who unbelievably and stupidly continues to back Trump now overlaps with extreme tributes to Putin. Headlines from the following mainstream news sources say it best:


Rather than recoiling from the murderous treachery of
Putin's brutal invasion of sovereign Ukraine
, Trump seems absolutely giddy about the Russian autocrat's cleverness, calling Putin a "genius" and describing the invasion as "a wonderful move." You see, Trump's isolated Republicans, who have had no "policy" or "platform" on which to stand for at least the last five years, instead respect leaders' "style." They liked the "style" of Trump who they saw as sort of a "macho leader on the cover of a right-wing GQ." And they equate Putin with this "style" that they've sadly come to respect.

Influential political strategist and commentator Chai Komanduri said it best when he referred to Trump's right-wing Republicans as being "rooted in an authentic admiration for the non-democratic ethnic petro-state that Vladimir Putin has created in Russia — one which looks a lot like the ideal Red State that Republicans would like America to emulate." Trump very literally wanted America to treat democracy here like Putin does in Russia.


Trump and his cultist supporters who buy into his skewed logic and altered sense of reality are truly ignorant people — and they're traitors to America!
March 19
03/19/22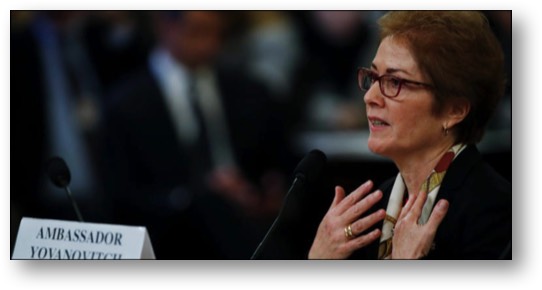 Ambassador Yovanovitch was disgusted with Trump
Business Insider
has reported that Marie Yovanovitch, the former U.S. ambassador to Ukraine,
lost her appetite and couldn't finish her french fries while watching Trump's joint press conference at the bilateral summit in Helsinki with Russia's Putin in 2018.
Trump held "what turned out to be a disastrous meeting with President Putin in Helsinki," she wrote in her new book,
Lessons from the Edge
. "The summit wrapped up with a joint press conference between the two leaders, a spectacle that
left observers pondering the depths to which Trump had sunk in his pandering to Putin
. I quickly lost my appetite as I saw our president toady up to Putin and take the Russian's word over that of our own intelligence agencies, which assessed that Russia had interfered in the 2016 US presidential election."
When asked whether he believed the US intelligence community or Putin, gullible Trump said Putin was "extremely strong and powerful in his denial."
Trump also recycled nonsense conspiracy theories
about the FBI and the Democratic National Committee, and refused to say he supported the findings of US officials over the Russian leader's claims.


Trump is a traitor to the United States of America.
March 18
03/18/22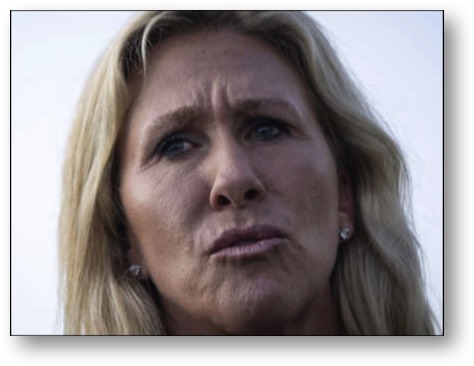 Hacker group Anonymous threatens the QAnon Bitch
Newsweek
has reported that
hacker group Anonymous has leveled a threat at Congresswoman Marjorie Taylor Greene: "Russian asset Marjorie Taylor Greene will go down in history as one of the dumbest politicians ever. History will not be kind to you, nor will we."


The threat comes a day after Greene released a nearly 10-minute video in which she stated that Ukrainians are fighting "a war they cannot win." She also criticized President
Joe Biden
for "saber-rattling" and "dragging America into World War III" by offering financial and military support to Ukraine. Greene also referred to President Biden as a "weak dementia-ridden fossil in the White House."


Hey, Anonymous, we recommend that you hack into Marjorie's bank accounts and transfer her balances to Putin!
That'll teach the QAnon Bitch to speak out against the President of our United States.


Fellow Republican, Wyoming Representative
Liz Cheney,
slammed Greene as a
"useful idiot" to Russia
.


Do us all a favor and move to Russia, Marjorie!
March 13
03/13/22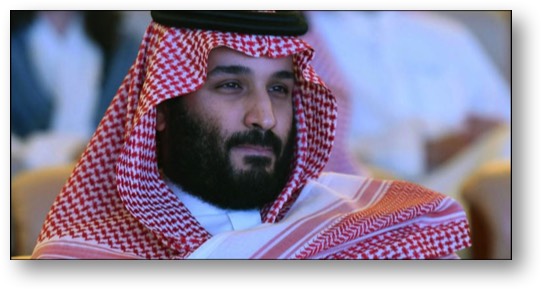 Saudi Arabia executes 81 in a mass execution!
Our world is filled with evil dictators — Putin, Trump, and now
Crown Prince Mohammed bin Salman
!


Saudi Arabia
executed 81 people yesterday for crimes ranging from killings to belonging to militant groups — the largest known mass execution carried out in the kingdom in its modern history.


Saudi Arabia has continued to behead convicts under King Salman and his assertive son, Crown Prince Mohammed bin Salman, pictured here.


Never forget, Americans, that
all 19 Islamic militants
that attacked our World Trade Center on September 11, 2001, killing nearly 3,000 people, were from Saudi Arabia!

George Bush, the Republican president at the time of the 9/11 attacks, said, "
We will make no distinction between the terrorists who committed these acts and those who harbor them," and yet America still treats Saudi Arabia as a favored nation.


The leaders of Saudi Arabia are terrorists.
March 12
03/12/22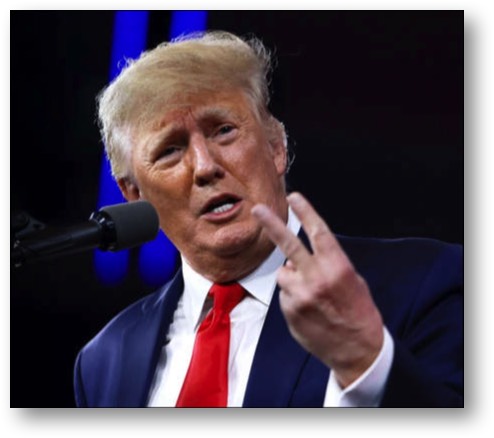 The Incompetent Asshole continues with his worn-out election fraud hype


A recently taped YouTube episode from
Trump's Mar-a-Lago estate in Florida contained content that "advances claims that widespread fraud, errors or glitches changed the outcome of the U.S. 2020 presidential election." This misinformation was quickly and appropriately taken down by YouTube.


It's time that the world forgets about this demented malignant narcissist.
March 11
03/11/22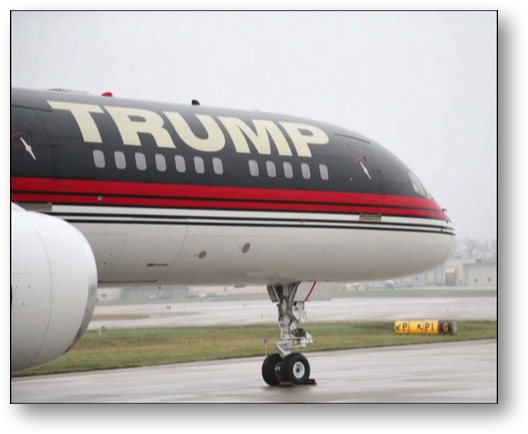 Trump begs his cultists to buy him a new plane
Twice-impeached Trump wants his fans to foot the bill for a new plane that would let him pretend he's still the president.

After Trump's jet was forced to land this weekend after suffering an engine failure, the Trump Save America PAC sent out a fundraising email demanding cash to help bankroll a new jet.

In the email, a message signed by Trump read: "My team is building a BRAND NEW Trump Force One... The construction of this plane has been under wraps — not even the fake news media knows about it — and I can't wait to unveil it for everyone to see." According to
Business Insider
, the email included a link to a site that let ignorant MAGA die-hards
donate as much as $2,500 a month
to the Trump PAC.

Don't you want a new jet too? Gee,
we wonder if we can also find a bunch of gullible and functionally illiterate cultists (aka supporters and conspiracy theorists) to buy a jet for us?
March 10
03/10/22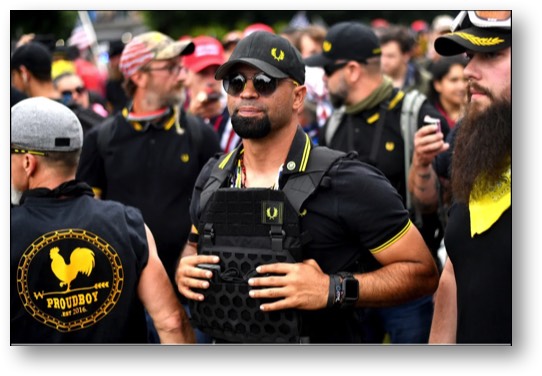 Republicans
tolerate white supremacy
The Miami Herald
called out the GOP's "terrifying tolerance of white supremacy and extremism" in a damning editorial following
the
indictment
this week of far-right Proud Boys coward Henry "Enrique" Tarrio
for his role in helping to direct the deadly U.S. Capitol riot.

The "message of tolerance" for extremism has been spread with Florida's own Republican Gov. Ron DeSantis seeking to downplay the Jan. 6 insurrection and the participation of Reps. Marjorie Taylor Greene (R-Ga.), the QAnon bitch, and Paul Gosar (R-Ariz.) at a white nationalist conference in Orlando.


The Miami Herald
board concluded that "Republicans will, no doubt, continue to deny they have a white supremacy problem. And we can add this episode to the shameful list of extremist connections already distinguishing Florida."
March 7
03/07/22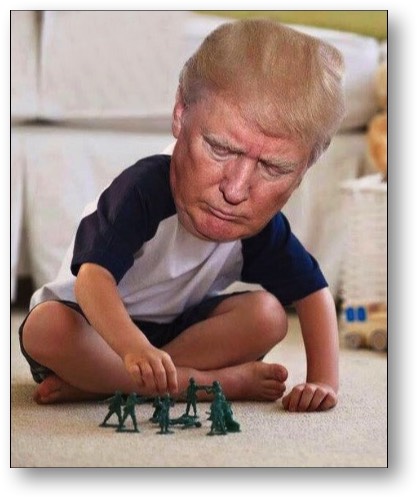 Those who continue to support Trump after this weekend are too ignorant to have opinions that matter
At a speech in New Orleans on Saturday night,
Trump took the stage at the annual Conservative Political Action Conference ("CPAC") and did what he has done
for years
: He praised Vladimir Putin.
Trump also mused that we could simply
apply Chinese flags to our F-22s and then "bomb the shit out of Russia
,"
setting off a conflict between those two countries. "And then we say, China did it, we didn't do it, China did it, and then they start fighting with each other and we sit back and watch," Trump said, according to a recording obtained by
The Washington Post
's Josh Dawsey.
Trump is so stupid, he's pathetic; and those who continue to support him are every bit as stupid and pathetic as he is.
"Using the flag of a neutral state or any other state that is not a party to the conflict is prohibited," said Laurie R. Blank, an expert on international law at Emory University's law school.
Article 39(1) of Additional Protocol I to the 1949 Geneva Conventions
states, "It is prohibited to make use in an armed conflict of the flags or military emblems, insignia or uniforms of neutral or other States not Parties to the conflict."

"A ruse like [Trump's] is
perfidy
and violates
international humanitarian law
and customary international law," said William C. Banks of Syracuse University. "Perfidy in lay terms is treachery." But
Trump is an ignorant, self-centered bastard that cares nothing about the law
—
he arrogantly and wrongly thinks he's above it.
What Trump did Saturday at CPAC should disgust every real American patriot (not Trump's fascist, neo-Nazi outliers), regardless of political affiliation. But it didn't. On Sunday,
nearly 60% of CPAC attendees
said they would still vote for Trump if the 2024 Republican primary were held today.
These fringe Republicans are incredibly stupid people
, and their attitudes should concern all who support democracy over autocracy.
Stupidity is not illegal in the United States!

Lock Trump up. Lock Trump up.
March 4
03/04/22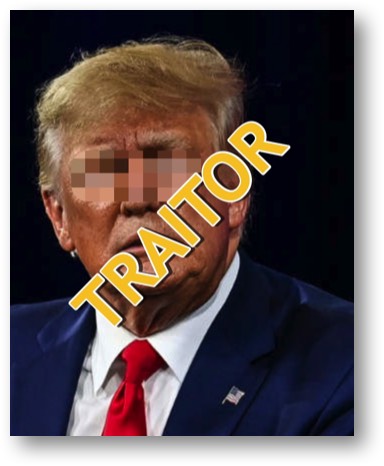 The
American Traitor
repeats more bogus vote claims


Twice-impeached,
Putin-loving
Trump, the
traitor to the United States of America
, continued to repeat his baseless claims of voter fraud yesterday
after lawmakers accused him of a "criminal conspiracy" to overturn the 2020 election.


Trump was responding to a bombshell legal filing by the House select committee investigating the January 6 assault that said Trump had tried to obstruct Congress' certification of President Joe Biden's victory.


Trump and his allies
engaged in potential illegal acts
to defraud the American people over the election results and then attempted to prevent Congress from certifying his defeat.


Trump repeated much of the disinformation about voter fraud that he has been spreading since even before the 2020 election. We won't reprint any of the worn-out claims from this mentally deficient idiot here — we won't give him an audience.


Trump's bogus claims are nothing more than worn-out recorded babble from a bobblehead pull-toy.


"Trump is the greatest single mistake in American history." (
Roger Stone
)
March 3
03/03/22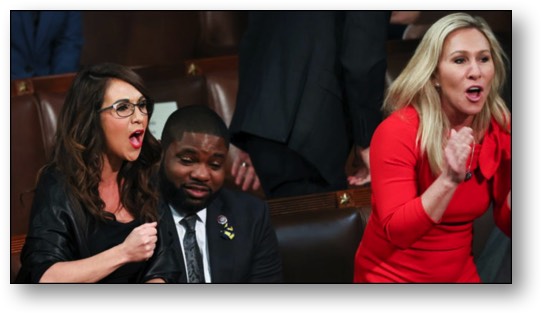 Two Classless, Trailer Trash Republican PIGS disrespected the President!


Lauren Boebert and the QAnon Bitch, Marjorie Taylor Greene, two worthless
trailer trash Republican representatives
, proved what
classless PIGS
they are at President Biden's State of the Union address Tuesday night.


These two bitches chanted "build the wall," and Boebert heckled President Biden as he discussed his dead son. They also
turned their backs
and refused to applaud as Biden entered the chamber. They showed no respect for the office of the President of the United States.
Boebert and Greene are a disgrace. The Republican party needs to potty train and muzzle their unruly toddlers, or better yet, eject them from the House of Representatives.

Rep. Sean Patrick Maloney, a leading House Democrat, said that Boebert's outburst was "disgraceful." "I don't know that I belong to the same human race as someone who thinks it makes sense to yell at someone when they're talking about their dead son," Maloney said.

The office of the President of the United States deserves respect. If Boebert and Greene can't or won't show that respect, they should be physically removed.
March 2
03/02/22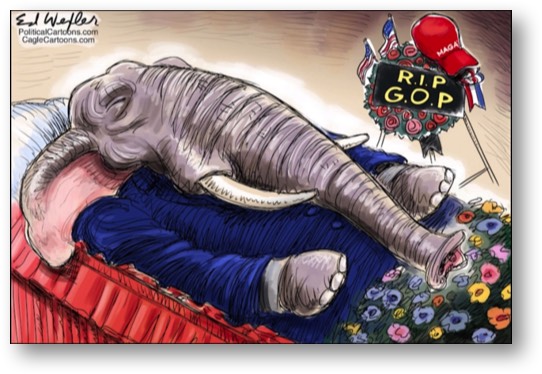 The Death of the Republican Party


For at least the past five years or more, the Republican Party has introduced nothing of value for America. Instead, its members have closely watched the Democrats introduce legislation, only to then quickly criticize, lambast, and vote it down.

Last night, during President Biden's State of the Union address, the Republicans booed and hissed and interrupted and acted like the immature adolescents that they are. There was no respect for the office of President.
These worthless Republican assholes should be ousted from office as they no longer represent the people who elected them to SERVE THE PEOPLE.
The Republican party no longer has a leader, a platform, or an agenda. It's a party of RINOS and LOSERS.
March 2
03/02/22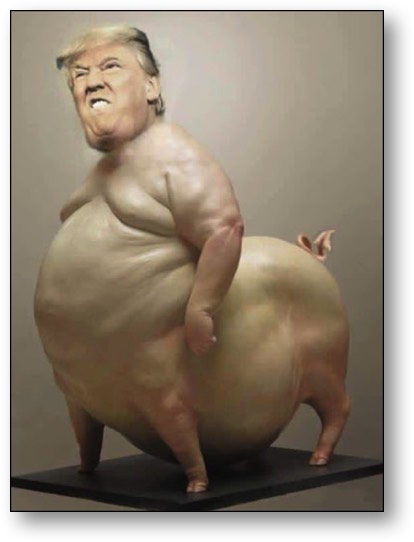 Trump is a WEAK LOSER!
Trump enjoys kissing the asses of authoritarian rulers.
He is attracted to leaders who, in his twisted mind, he sees as "strong" and "tough" — everything that he is not.


At CPAC this past weekend, Trump, speaking of Putin, said, "Of course he's smart." Smart? A former American president praising a Russian invasion with absolutely zero provocation is not smart. For Trump, everything is transactional. There's no right or wrong. There's only "Can you do this thing, or not?" And "What does it get you" vs. "What does it cost you?" In Trump's world view, "might" equals "right," meaning that if you
can
possibly just take something, you absolutely
should
just take it. Being perceived as "strong" in his demented mind is all that matters to him.
Trump is nothing but a
user
and
abuser
of people.
In the past, Trump has praised Putin for his "iron grip," saying, "The man has very 'strong' control over a country." Interestingly,
John Bolton, the US's former national security advisor, criticized Trump, his old boss, over his administration's legacy in the Russia-Ukraine conflict. "The fact is that Trump barely knew where Ukraine was. He once asked John Kelly, his second chief of staff, if Finland were a part of Russia." Bolton said.
Trump is just plain ignorant.


In January, 2022, Trump endorsed Hungarian Prime Minister Viktor Orb
á
n and touted him as a "powerful" and "strong" leader.

Trump praised Chinese President Xi Jinping for being a "strong, tough" guy.

Trump said this about Turkish President Recep Tayyip Erdogan: He's "tough," but I get along with him.

"Strong, tough, big, great" — all one-syllable superlatives from Trump's limited, 50-word, adolescent vocabulary.
Trump needs to be tried, convicted and then either imprisoned or executed for the American traitor that he is.
March 1
03/01/22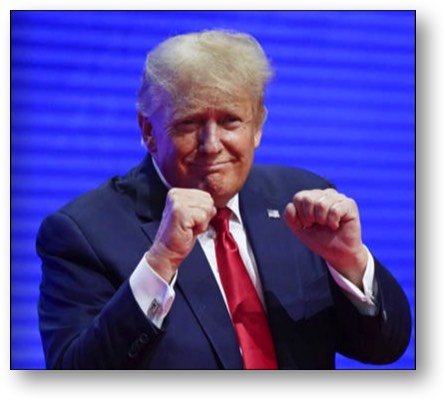 Trump's tactic: DELAY, DELAY, DELAY!


The
Associated Press
reported that
Trump has appealed a judge's decision requiring he answer questions under oath in New York state's civil investigation into his business practices —
a widely expected move that's likely to prolong the fight over his testimony by months
.

Delay, delay, delay is one of twice-impeached Trump's most often used tactics remaining in his arsenal.


Trump argues that ordering him to testify violates his constitutional rights because his answers could be used in a parallel criminal investigation. The court did not set a date for arguments. It typically issues decisions several months after that, but could be inclined to rule on an expedited basis given the urgency of New York Attorney General Letitia James' investigation. The attorney general signaled she was ready for a long fight to get Trump and his children to testify.


No one is above the law.
It's time that Trump be tried, convicted, and prosecuted to the full extent of the law as the traitor that he is.