July 31
07/31/21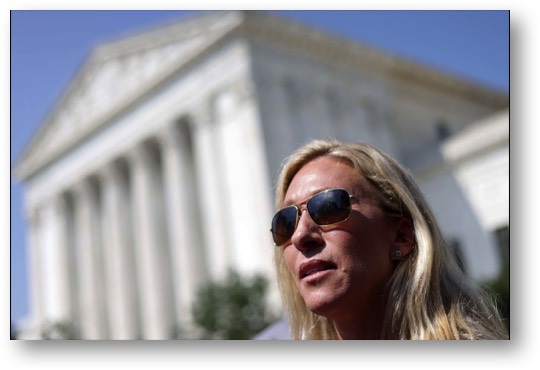 The ignorant QAnon Bitch says Biden "wants the pandemic to last forever"

The QAnon Bitch, Georgia Republican Representative Marjorie Taylor Greene, said the Biden administration wants "the pandemic to last forever because they don't want the economy to recover."

Greene has been critical of President Biden in the last few months, specifically calling him a "communist." When Steve Bannon challenged her on her comments, Greene simply said to "study the history." She also said, "Georgia was stolen, I know for a fact that President Trump won."

FACT: It's been certified that President Biden beat Trump in Georgia by over 12,000 votes.

Everyone knows that Greene is a f*cking idiot.
July 30
07/30/21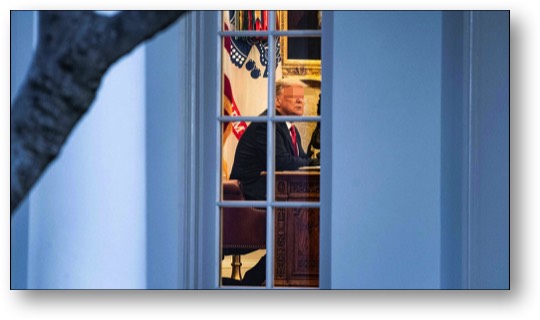 Proof of Trump Trying to Delegitimize the Election Results

The New York Times has reported that Trump pressed top Justice Department officials late last year to declare that the election was corrupt even though they had found no instances of widespread fraud, so that he and his allies in Congress could use the assertion to try to overturn the results, according to new documents provided to lawmakers.

The demands were an extraordinary instance of a losing president interfering with an agency that is typically more independent from the White House to advance his personal agenda.

This is the latest example of Trump's wide-ranging campaign to delegitimize the election results.

Trump pressed Jeffrey A. Rosen, the acting attorney general at the time, and his deputy, Richard P. Donoghue, to say "Just say that the election was corrupt + leave the rest to me."

Using any method of measurement, Trump is nothing but SCUM! Nothing he says or does is any longer of any consequence. Trump is a LOSER!

The Justice Department has provided Mr. Donoghue's notes to the House Oversight and Reform Committee, which is investigating the Trump administration's efforts to unlawfully reverse the election results.
July 29
07/29/21
Trump is a LOSER!

Republican Pennsylvania Senator Dan Laughlin said, "Donald Trump lost Pennsylvania because Donald Trump received fewer votes. The current attempt to discredit the 2020 election results runs headlong into that unmistakable truth."

That about sums it up. President Joe Biden won Pennsylvania by 81,000 votes. Trump is nothing but a LOSER.
July 28
07/28/21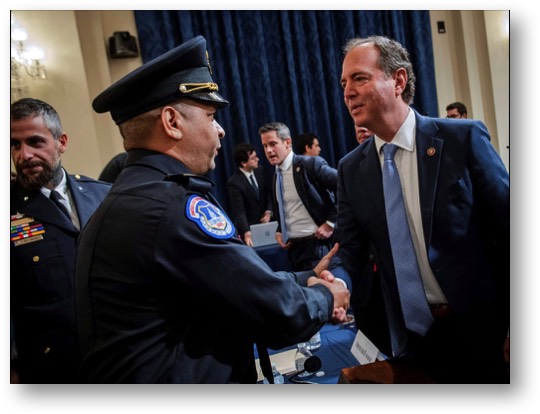 Capitol Police Testimony Conflicts With Republicans' Lies

The House Select Committee investigating Trump's January 6 Capitol riot held its first hearing yesterday, with emotional testimony from four law enforcement officers who defended the building that day.

The nearly four-hour hearing offered a harrowing account of officers beaten unconscious, tear-gassed, taunted with racial epithets and attacked with the American flag by protesters spurred on by Trump's false claims of a stolen election. Officers described in vivid, personal terms the terror of defending the U.S. Capitol from violent Trump-inspired insurrectionists on Jan. 6.

Republicans are seeking political advantage in Americans' concern about rising crime nationwide. But the police testimony at Tuesday's debut hearing of the congressional panel investigating the insurrection have undercut that effort.

The Department of Justice (DOJ) announced that it will not use its powers to try to shield Trump administration veterans from testifying to Congress about the insurrection and Trump's efforts to overturn the election, thereby reducing their ability to duck accountability. Yesterday the DOJ declined to represent Alabama Republican Rep. Mo Brooks in a lawsuit that accuses him of helping to incite the deadly Capitol riot. Brooks is one of several defendants in a lawsuit that says Brooks knowingly incited a mob of Trump's supporters to storm the Capitol, using incendiary rhetoric at a rally near the White House before the violent assault began. Trump himself, as well as Donald Trump Jr. and Rudy Giuliani, are named as defendants in the lawsuit. Lock them up! Lock them up!

Citizen Trump, the asshole responsible for the insurrection, said nothing about the Capitol conduct of his traitorous supporters and offered no sympathy for the testifying officers. Trump's ignorant cult members (aka "supporters") have been primed by their demonic cult leader ever since January 6 to excuse or ignore the insurrection.

"Many of the Republicans in Congress who are the most vocal about supposedly supporting the police and law and order are the same ones who have dismissed and downplayed the shameful events of that day," said White House Press Secretary Jen Psaki.

Rep. Liz Cheney, the Wyoming Republican on the House Select Committee, put it all in perspective: "What's more important — your party or your country? How far are you willing to go in slavish adherence to a man who would seek to undermine the courts, the Congress and even our democracy in order to keep his fragile ego intact?" It seems that the vast majority of Republicans are willing to follow Trump wherever he leads, no matter the damage done to democracy, in pure selfishness to get reelected.
July 27
07/27/21
Whine, Whine, Whine ad nauseum!

The mentally deficient malignant narcissist is whining again, this time about "routers" used in Arizona's election — network routers that weren't even connected to the Internet! Trump is one very sick asshole!

Why the routers? Because of a debunked conspiracy theory from Trump that votes were somehow electronically transferred from Trump to Biden. This is all part of a broader conspiracy theory that Italian satellites were used to change votes.

Those Trump "supporters" (aka demented cult members) who still listen to his sick ranting are just as sick, or maybe even sicker.
July 26
07/26/21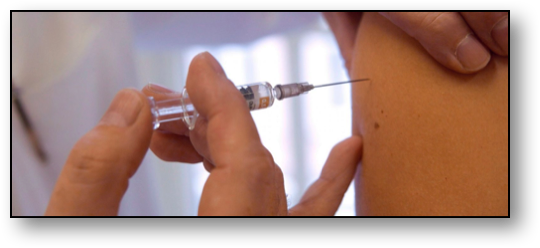 The Unvaccinated Are Clearly To Blame!

It's time to place the blame squarely on those responsible — the unvaccinated. The Wall Street Journal is reporting that the number of Covid cases in the United States is up 65% from just one week ago, driven by the unvaccinated, with the Delta variant posing the greatest threat to the unvaccinated! This surge or spike in Covid cases is worse than the horrible, original spike from last spring. And despite the warnings from top health officials, doctors, politicians on both sides of the aisle, local leaders and your everyday neighbor, the daily pace of vaccinations keeps falling.

The Delta variant is two to three times more transmissible than the original virus. With the original virus, every 10 people infected would go on to infect 25 people, on average. With Delta, 10 infections would likely result in between 60 to 70 new infections — an exponential increase — putting the threshold for so-called herd immunity, or what some scientists prefer to call "population immunity," further out of reach. The biggest public health crisis in over a century is getting worse, and the warnings are falling on the deaf ears of the unvaccinated. As Alabama's Republican Governor Kay Ivey said, "It's time to start blaming the unvaccinated folks who have let us down."

Arkansas Republican Governor Asa Hutchinson is traveling around the state combatting misinformation and "myths" about the COVID-19 vaccines and encouraging residents to get vaccinated.

The good news is that the vaccines are highly effective against the Delta variant at preventing severe illness and death in those who are fully inoculated. Don't remain stupid — get vaccinated!

The country is now averaging more new coronavirus cases per day than in the spring of 2020. New Covid-19 cases are up over 65% since just last week, and almost four times higher than a month ago! In just the past seven days, Covid-19 hospitalizations have risen nearly 30% nationwide, with almost all among the unvaccinated!

Health officials are warning that the more the virus circulates among the unvaccinated, the greater the chance of so-called "breakthrough" or mutated infections among the fully vaccinated. The problem is about to get worse as most teens are unvaccinated as they are about to head back to school in just a few weeks.

The blame for the situation the country is now in falls squarely on the unvaccinated, many of whom are stupidly referring to the vaccines as bioweapons and mind control. Stupidity is not illegal in the United States, but it certainly is running rampant among the anti-vaxxers.
July 25
07/25/21
Mentally deranged Trump continues to propagate his 'Big Lie'

CNN has reported that Trump's 'Big Lie' came full circle on Saturday as he traveled to Arizona to dangerously seize on the false fruits of a sham election "audit" precipitated by his own discredited claims that the 2020 election was stolen. The malignant narcissist's nearly two-hour speech alternated between fantastical self-aggrandizement and falsehood-packed rants about his perceived political adversaries.

Citizen Trump's delusional and self-sustaining myth that he was improperly ejected from power is at the center of a fake and demented belief system that he is imposing on his party and is making a litmus test for 2022 GOP candidates seeking his endorsement.

Trump showered praise on Arizona state senators who organized the non-scientific audit. Trump insisted he wasn't involved in the bogus audit, unsuccessfully attempting to create the false impression of independence and legitimacy in a politicized process inspired by his altered reality and outright lies.

The one-term, twice-impeached, mentally deranged snake-oil salesman once again related prolonged and false stories of election fraud across the country.

At the same rally, another Trump cult follower, Arizona State Sen. Michelle Ugenti-Rita, who opposed Republican lawmakers' wish list for election changes, was booed off the stage by the crowd.

Lies and conspiracy theories now represent widely held views of a large minority of the stupid Republican electorate thanks to Trump's mastery of demagoguery. Unfortunately, stupidity is not illegal in the United States.

Trumpism is the most dangerous virus within America that needs to be permanently eradicated!
July 25
07/25/21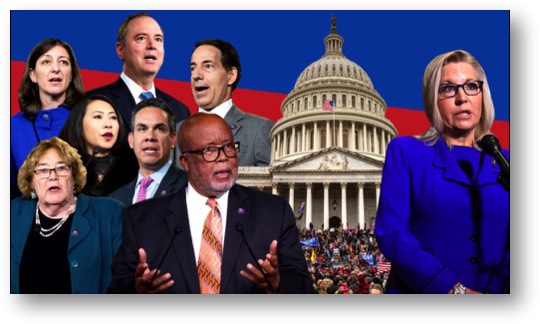 House Committee Members Selected To Investigate Trump's Jan. 6 Insurrection

The US House of Representatives voted last month to create a new select committee to investigate the deadly Capitol Hill insurrection on January 6.

The committee members are:

Bennie Thompson, chairman (15 term House member, since 1993)

Pete Aguilar (4 term House member)

Liz Cheney (3 term House member)

Zoe Lofgren (14 term House member, since 1995)

Elaine Luria (2 term House member)

Stephanie Murphy (3 term House member)

Jamie Raskin (3 term House member)

Adam Schiff (11 term House member, since 2001)

Adam Kinzinger (6 term House member)
The committee's first hearing is scheduled for July 27 and will feature testimony of law enforcement officers who responded to the insurrection.
July 23
07/23/21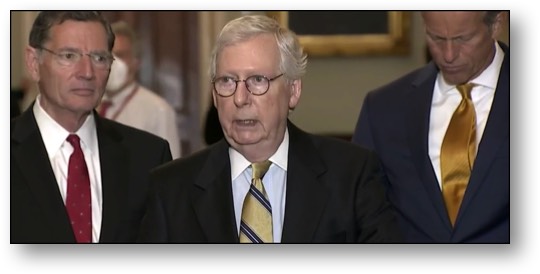 Two-Faced Republican Assholes Shift Their Stance On Vaccines

U.S. hospitalizations and 99% of the deaths from the coronavirus are now among the unvaccinated — the defiant anti-vaxxers.

Top Republican legislators have done a 180-degree turnaround and are now urging their supporters to get vaccinated as the delta coronavirus variant surges across the United States, marking a notable, two-faced shift away from the anti-vaccine conspiracy theorizing that has gripped much of the party in opposition to the Biden administration's efforts to combat the virus.

Yellow-bellied Senate Minority Leader Mitch McConnell (R-Ky.) was part of the rising chorus on Tuesday, as was two-faced Rep. Steve Scalise of Louisiana, the No. 2 Republican in House leadership. Scalise said he was compelled to get the shot in light of the recent spread of the delta variant and the associated spike in cases — and that politics was not a consideration. He was even distributing pictures of himself getting his first dose of the vaccine last weekend after months of holding out.

These two-faced idiots claimed politics was not a consideration. Yeah, right! Nobody believes these lying Republican assholes.

Fox News host Sean Hannity, who previously called the virus a hoax, has done a 180º turnaround and seemingly abandoned his disinformation campaigns on Covid-19, saying, "I can't say it enough. Enough people have died. We don't need any more death." Now, all of a sudden and out of nowhere, Hannity believes in the science of vaccinations. Yet on Friday, July 23rd, CNN reported that Hannity backpedaled, saying he never told anyone to get a vaccine. There's only one thing we all know for sure — Hannity is a shameful and ignorant asshole — and those who continue to listen to his worthless babble are no better than he is.

Steve Doocy, who cohosts "Fox & Friends," told viewers this week that the vaccination "will save your life."

Even Republican Gov. Ron DeSantis, who recently began selling campaign merchandise mocking masks and medical experts by selling T-shirts and beer koozies that read "Don't Fauci My Florida," said, "These vaccines are saving lives." DeSantis refuses, however, to impose a mask mandate in Florida, the state with the most coronavirus cases now being reported at an average of 6,500 per day, a figure that has doubled in the last week and quadrupled in the last month.

Republican Sen. Chuck Grassley from Iowa encouraged "ALL eligible Iowans/Americans to get vaccinated."

Rep. Elise Stefanik (R-N.Y.), the No. 3 House GOP leader, also now encouraged her constituents to get vaccinated.

A survey of all 535 members of Congress by CNN found that in May, 100 percent of Democrats from both chambers were fully vaccinated, but only 44.8 percent of House Republicans.

Up until now, all these Republicans had nothing but baseless and irrational excuses for not getting vaccinated, mainly for political reasons to spite the Democrats who very obviously knew better. Now, like a bunch of brainless lemmings following their cult leader, the Republicans are singing a different tune. Face it, folks — these Republicans aren't leaders. It's time to vote them out in the upcoming mid-term elections.

Eric Ward, a senior fellow at the Southern Poverty Law Center who studies extremism, blamed vaccine reluctance on "nearly a year-and-a-half of right-wing rage machine rhetoric. Even conservative leaders now are having a hard time figuring out how to rein in what had primarily been a propaganda campaign, and they are now realizing their constituencies are particularly vulnerable," he said.

Some ignorant Republican legislators, however, continue to peddle falsehoods. QAnon bitch Marjorie Taylor Greene, R-Ga., was suspended from posting on Twitter for 12 hours earlier this week after spreading disinformation about vaccine-related deaths. Charlie Kirk, the founder of Turning Point USA, suggested without any evidence on his podcast that up to 1.2 million could have died after getting the COVID-19 vaccine.

Faced with death from a highly transmissible killer virus that's now mutated and become an "anti-vaxxer pandemic," all of a sudden many Republicans are getting religion!
July 22
07/22/21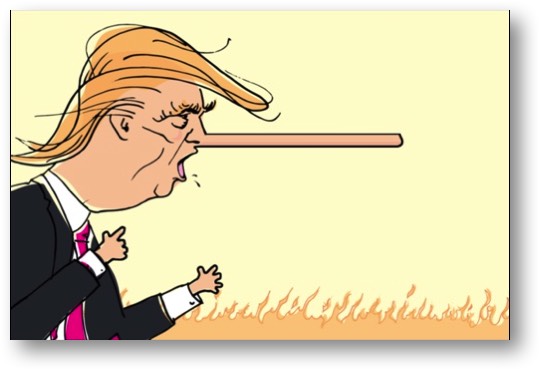 Another Trump Lie: A "very loving crowd" on Jan. 6

Trump, the twice-impeached demonic autocrat, and his House Republican enablers and cult members are now spinning fantastical inversions to hide his crimes against the Constitution on January 6. Trump is once again twisting the truth and outright lying, claiming that his supporters were "ushered in by the police" and that the Capitol police were "hugging and kissing" them. Trump is a liar in addition to being a loser.

Trump insisted that the riotous mob of insurrectionists that marched from his rally on that fateful day to invade the US Capitol was instead a "very loving crowd" in exclusive excerpts from audio interviews released on CNN by Pulitzer Prize-winning Washington Post reporters Carol Leonnig and Philip Rucker during an interview for their new book, "I Alone Can Fix It." The book, which was released on Tuesday, chronicles Trump's final year as president, with a behind-the-scenes look at how senior administration officials and Trump's inner circle navigated his increasingly unhinged behavior after he lost the election.

Trump's comments underscore the vast Republican effort to downplay the Capitol riot. In the months since January 6, Trump and Republican lawmakers in both chambers have offered false accounts of the attack that conflict with reams of video evidence, criminal charges filed against participants and law enforcement officials' testimony.

Trump and his Republican cult members erroneously think that they can change history simply by stating false facts. They can't. Everyone knows that they are traitors to America.
July 20
07/20/21
Twitter Suspended Marjorie Taylor Greene's Account For 12 Hours

Twitter suspended the account of the unhinged QAnon bitch for 12 hours. Marjorie Taylor Greene's account was put on "read-only" mode for 12 hours, which happens "if it seems like an otherwise healthy account is in the middle of an abusive episode." Greene's account had violated the misinformation policy multiple times, according to Twitter. Greene's comments came as the highly transmissible delta variant continues to spread across the United States and infections again rise nationwide. If she continues to share misinformation about Covid-19 through her Twitter account, Greene could be suspended from the platform permanently.

Greene tweeted Monday that the novel coronavirus was "not dangerous for non-obese people and those under 65." She also made claims about vaccine-related deaths and side effects, calling the coronavirus vaccines "controversial." Greene had received a 12-hour suspension from Twitter earlier this year following a conspiracy-laden thread about the Georgia Senate elections.

Greene said in a statement that this latest suspension was "a Communist-style attack on free speech."

Time out is for kindergartners. People this dangerous need a permanent ban.
July 19
07/19/21
The Mentally Ill Autocrat Blames Biden

Newsweek has reported that citizen Trump, the mentally ill idiot, is saying that Americans are "refusing" to take the coronavirus vaccine due to mistrust of the Biden administration, the media and the 2020 presidential election results.

Right, Donnie. Go crawl back into your hole with the other lying cockroaches at Mar-a-Lago.
July 18
07/18/21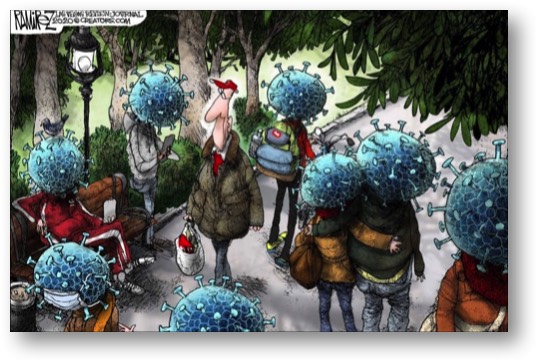 99% of those dying now from the coronavirus are the anti-vaxxers!

FACTS: The coronavirus kills. We have the vaccines. The vaccines are free. The vaccines work.

Yet more than 99% of all those now dying from the coronavirus are the stupid anti-vaxxers who refuse to get vaccinated. Today, U.S. Surgeon General Vivek Murthy said that 99.5 percent of new COVID-19 deaths are happening among unvaccinated people, and expressed concern that the issue could quickly become worse.

It doesn't help that many Republicans have been stoking vaccine skepticism and outright hostility. The Delta variant is surging and spreading rapidly across the country. Many who choose to forgo the shot may claim they are making a personal decision. But the continued spread of Covid-19 affects us all. And the truth is, the virus doesn't care about so-called individual liberties. It simply infects whatever host it can find, Republican or Democrat, young or old, disabled, immuno-compromised, and anti-vaxxers alike.

607,771 Americans have already died of the coronavirus. More than 99% of those dying right now are unvaccinated.

Nearly a year and a half into the pandemic, you cannot be either uninformed or misinformed. You can only be stupid. Get vaccinated.
July 18
07/18/21
'MyPillow' CEO Lies About Vote Totals

Mike Lindell, MyPillow CEO, while speaking at a recent stop in the ReAwaken America tour, said that the real total of the presidential election was 80 million votes for Trump to less than 68 million votes for Biden.

That is a bold-faced lie.

Lindell has repeatedly pushed Trump's baseless claim that an unprecedented nationwide conspiracy of voter fraud "stole" the election from him. The truth is that Biden won the election with over 81 million votes. Trump lost with over 74 million votes.

Lindell's extraordinary allegations have already been thoroughly litigated in state and federal courts and wholly discredited, but he continues to travel around the country, attending events where he promotes false claims and misinformation about the election results. Neither Lindell nor Trump have provided any evidence that substantiates their ridiculous allegations. Dozens of election challenge lawsuits filed by Trump and his allies have failed in state and federal courts. Even judges appointed by Trump and other Republicans have rejected their allegations. Ignorance and stupidity know no bounds.

Peter Navarro, former White House advisor, also claimed that Trump won the election, citing his own dubious voter fraud report. Navarro's conclusion was based on allegations that had already been debunked and tossed out of court in dozens of Trump campaign lawsuits seeking to overturn the election results in several swing states.

Trump can only associate with liars and cheats, with the two above-mentioned idiots as living proof.
July 17
07/17/21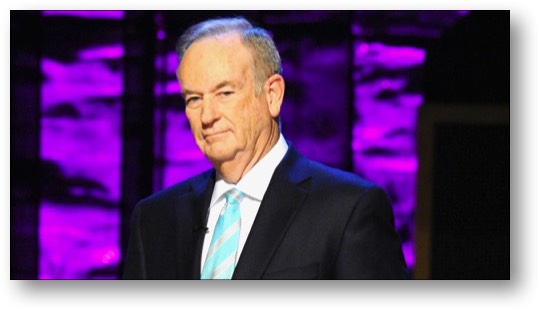 Trump Can No Longer Fill Seats

Citizen Trump, the twice-impeached malignant narcissist, can no longer fill seats. Trump is having trouble selling advance tickets for his upcoming speaking tour. Trump announced a joint "History Tour" featuring four stops in December with conservative pundit Bill O'Reilly. So far, the pace of purchases has been slow compared to other acts, arena officials say.

In Orlando, where the duo is hosting an event at the 20,000-capacity Amway Center on Dec. 12, a box office employee for the arena said, "There's still a lot of tickets open. We have concerts that are doing a lot better than this." A Bad Bunny concert being held next March recently sold out within two days, for example.

A large number of seats remain open for the Dec. 19 Trump-O'Reilly event at the 20,000-seat American Airlines Center in Dallas.

For Trump's Houston event with O'Reilly at the 19,000-seat Toyota Center, 60 to 65 percent of seats remain unsold.

Thankfully, few people are interested in hearing either of these idiots.
July 16
07/16/21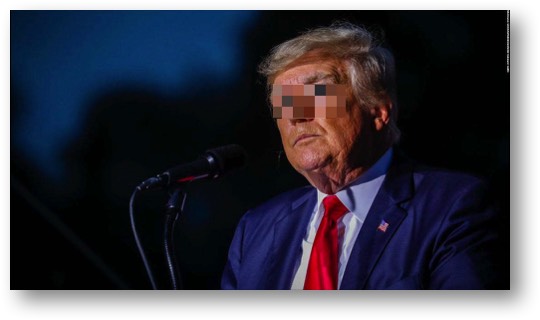 Trump Is Democracy's Biggest Threat

The first round of books about the presidency of Trump has been hitting stores in recent weeks. Predictably, readers are offered shocking revelations about behind-the-scenes moments in Trump's orbit that were even more chaotic than they looked on television screens or sounded in news reports. They're hearing about admissions from high-level officials about the dangers they perceived, particularly as Trump felt his grip on power slipping away. This flurry of new books painted a frightening picture inside the Trump bunker in the last days of his presidency as a paranoid, vindictive, conspiracy-addled wannabe autocrat desperately trying to cling to power.

In Michael Wolff's new book, "Landslide: The Final Days of the Trump Presidency," we find out that Trump contemplated using the pandemic as an excuse to postpone the election altogether and retain power beyond what the constitution allows.

In Michael Bender's new book, "Frankly, We Did Win This Election: The Inside Story of How Trump Lost," Trump allegedly told Chief of Staff John Kelly that "Hitler did a lot of good things."

Carol Leonnig and Philip Rucker's book, "I Alone Can Fix It: Donald J. Trump's Catastrophic Last Year," reveals that Gen. Mark Milley, chairman of the Joint Chiefs of Staff, had a "stomach-churning" feeling in the final days of the administration as he heard Trump's false allegations about voter fraud. The general told aides, according to the book, Trump's insurrection was a "Reichstag moment" comparable to the 1933 attack on the German parliament building that Adolf Hitler used to establish his dictatorship and launch his terror on Europe. Milley was so worried about a coup attempt during the election that top military brass even drew up contingency plans to stop a power grab by Trump. A vote for Trump is a vote for potentially unbridled power, no different than a vote for Hitler.

Republican state lawmakers across the country are now passing legislation that makes it harder for Democrats to vote and easier to steal elections.

Trump's newest threat is to discredit the coronavirus vaccines, actively suppressing these lifesaving doses in his attempt to ensure that President Biden's ambitious goal of vaccinating Americans is thwarted. Once again, it's all about Trump at everyone else's expense. Trump doesn't care who he hurts along the way — he will continue to let innocent people die for his personal political gain.

All Americans should see these accounts as a new warning of Trump's direct threats to democracy that are all too foreseeable if his mentally deficient supporters help this twice-impeached, narcissistic, autocratic dictator return to power.

Trumpism is a virus within America that needs to be permanently eradicated!
July 15
07/15/21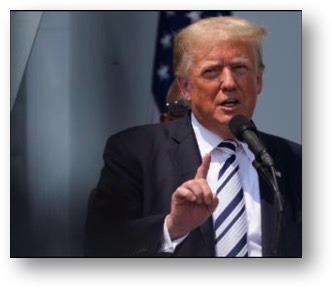 The Fascist Dictator

Trump's latest private comments mark his latest unhinged attempt to rewrite the history of his Jan. 6 insurrection, casting Ashli Babbitt, the rioter shot and killed in his insurrection, in the role of a martyr unjustly slain by a rogue police officer — rather than the vicious rioter captured on video trying to breach a secure area of the Capitol at the head of a mob.

Babbitt, 35, was shot and killed by an officer on Capitol Hill as she and other MAGA devotees attempted to break into the Speaker's Lobby. A day before the riot, Babbitt tweeted that Jan. 6 would mark "the Storm" — the long-awaited day QAnon supporters imagined Trump would arrest or execute his political enemies and impose a fascist dictatorship.

In a Sunday appearance on Fox News, Trump, the Fascist Dictator, portrayed Babbitt as an innocent victim of a ruthless gunman, praising Babitt as "wonderful."

Babbitt was a traitor to the United States, and so is Trump.
July 13
07/13/21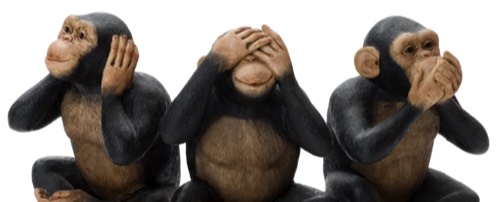 America's #1 Malignant Narcissist claims his insurrectionists were 'tremendous people'

CNN checked the facts, and Trump lied at least 12 times on a single topic in a single Fox interview this past Sunday — repeated, aggressive, intentional, dangerous lies!

Trump, the egomaniacal malignant narcissist, continued to spew forth lies about election fraud and how his cultish band of insurrectionists on Jan. 6th were "tremendous, great and peaceful people."

Peaceful except for all of the violence, the blood, the assaults, the beatings, and the destruction. What planet is this asshole and his legion of ignorant cult followers from?

The Truth
Trump lied. Americans died. Trump is very seriously mentally ill and is becoming more unhinged as each day passes.
July 13
07/13/21
The Serial Liar and Opportunist

During this past weekend's speech to the Conservative Political Action Conference in Dallas, Texas, Trump, speaking of polls, said, "If it's bad, I say it's fake. If it's good, I say that's the most accurate poll ever."

Polling is just another character in the story Trump is telling himself — and his incredibly ignorant cult followers — about his life and his political fortunes. Just like in every other aspect of his life, Trump is willing to bend and break the truth in order to fit his preferred narrative of what's going on.

Because Trump lacks any sort of compunction about lying, he feels totally comfortable saying whatever he wants to say about polling. And as he has repeatedly admitted, any time there's a poll that doesn't fit Trump's worldview, he simply says it's "fake."

Trump is the biggest asshole in America.
July 12
07/12/21

Republican's "outrage politics" is "going to get Americans killed"

Republican Rep. Adam Kinzinger, speaking on CNN's State of the Union on Sunday, said "outrage politics" being played by the GOP is "going to get Americans killed."

"My party has been hijacked, but this plane is going to crash into the ground," he said.

Kinzinger has represented Illinois's 16th congressional district in the House since 2013. He has been a vocal critic of Trump, including by voting in favor of his impeachment, and has frequently criticized pro-Trump cult lawmakers like Greene and Cruz.
July 11
07/11/21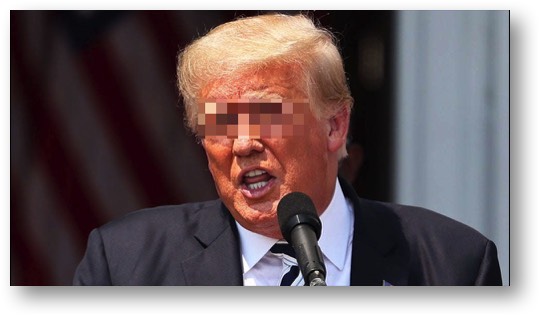 How could this asshole become worse?

During a speech at the annual Conservative Political Action Conference (CPAC), Trump said he "became worse" after he was impeached by the House of Representatives twice during his four years in office.

Trump was the first president in U.S. history to be impeached twice — first in December of 2019, for abuse of power and obstruction of Congress, and then again in January of 2021, for incitement of an insurrection. Trump is the nation's #1 LOSER and was voted the worst president in 150 years.

Trumpism is a virus within the Republican party that needs to be eradicated!
July 10
07/10/21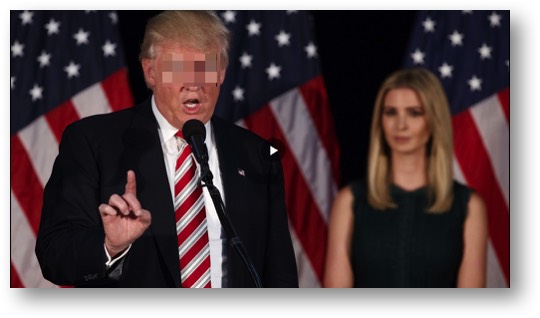 Ivanka eyed in criminal probe

MSNBC has reported that New York prosecutors are turning their attention to Ivanka Trump now that the Trump Organization and its CFO have been indicted.

According to a Daily Beast report, seven Trump Organization companies knowingly paid a "portion" of bonuses illegally, including a company where Ivanka held an executive role. Prosecutors claim the companies and their executives knew the practice was wrong.

Ivanka reportedly received hundreds of thousands of dollars in "consulting fees" at the same time as she held an executive role. Either you're an employee or you're not an employee! Employees don't receive "consulting fees." Ivanka is probably much less likely to stay loyal to her father than Allen Weisselberg and will flip and turn on her father in the same way that Trump would turn on his daughter to save his own hide.
July 8
07/08/21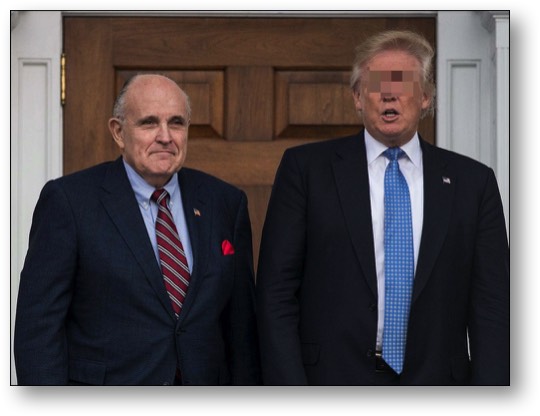 Arizona calls for probe of Trump and his allies

Arizona's Secretary of State Katie Hobbs is calling for an investigation into Trump and his allies over "intense efforts to interfere" with the counting of ballots in the 2020 election.

Hobbs urged Arizona's attorney general to look into reports that Trump and the scumbag cult members he associates with, including Rudy Giuliani, Sidney Powell, and Kelli Ward, tried to interfere with election officials in violation of state law. She said they contacted officials in Maricopa County, where a GOP-backed audit of the election was recently underway, to disrupt ballot counting. In Arizona, interfering with election officials is a felony.
July 7
07/07/21
Trump is Hitler's Protégé

Michael Bender of The Wall Street Journal, in his new book, Frankly, We Did Win This Election: The Inside Story of How Trump Lost, said that Trump insisted to his then chief of staff, John Kelly: "Well, Hitler did a lot of good things." Trump's statement reportedly "stunned" Kelly, a retired US Marine Corps general.

Trump made the remark during an impromptu history lesson in which Kelly had to remind Trump which countries were on which side during the conflict and "connected the dots from the first world war to the second world war and all of Hitler's atrocities."

Predictably, Trump denied making the remark about Hitler when he was caught in his lies.

Bender writes that Kelly did his best to overcome Trump's "stunning disregard for history". "Senior officials described Trump's understanding of slavery, Jim Crow, or the Black experience in general post-civil war as vague to nonexistent," he writes. "But Trump's indifference to Black history was similar to his disregard for the history of any race, religion or creed."

Trump, Hitler's protégé, is nothing but an ignorant fool and America's BIGGEST LOSER.


* * * * *

In other news, QAnon bitch and Trump cult follower Marjorie Taylor Greene compared White House-backed door-to-door vaccine drives to Nazi "brown shirts." The phrase "brown shirts" refers to the Sturmabteilung or SA, a militia and paramilitary force assembled by Adolf Hitler in the early 1920s. The fresh outburst of offensive, anti-Semitic rhetoric from Greene underscored the impunity with which the Republican party regards political extremism after allowing itself to become a channel for White nationalist sentiment during Trump's presidency.

White House press secretary Jen Psaki hit back at Greene saying, "We don't take any of our health and medical advice from Marjorie Taylor Greene, so I can assure everyone of that."
July 7
07/07/21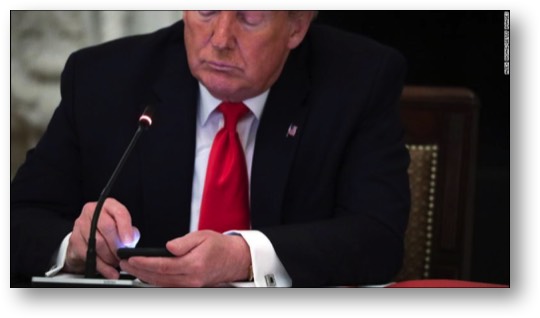 Citizen Trump Sues Social Media

CNN reported that Citizen Trump filed class-action lawsuits today targeting Facebook and its CEO Mark Zuckerberg, Twitter and its CEO Jack Dorsey, and YouTube and its parent company's CEO Sundar Pichai, in a Hail Mary move after being removed from all three of their platforms. Courts have typically dismissed similar suits, and these are likely doomed from the start as well.

Trump's lawsuits continue a trend that began during his presidency: Throwing the book against companies he perceives to be a threat to his warped and demented political brand. It's clear why Trump is now bringing these lawsuits: it's his way of trying to regain the monopoly on public attention he has now lost. Such lawsuits are a way that Trump has used over and over again to fundraise from his ignorant supporters by garnering their support, collecting their money, and dominating the headlines. They are also a convenient distraction from the ongoing New York state investigation into his company's alleged tax fraud, which has been the main story about Trump in the news lately.

At a press conference announcing the lawsuits, a representative for the America First Policy Institute, a pro-Trump nonprofit that filed the suits on his behalf, encouraged anyone who's interested in joining Trump in his class-action suits to sign up on a website. But if you go to that website, which we won't advertise here, it lands on a promotional video that only links to an option for donating money to the America First Policy Institution — and it doesn't offer a clear way to sign on to the suit. Trump is scum.

"Everything in these lawsuits is preposterous, which should not come as a surprise given Trump's affinity for filing frivolous lawsuits," said Andrew Schwartzman, senior counselor at the Benton Institute for Broadband and Society.

We have four words for Trump: Go to hell, Asshole!
July 6
07/06/21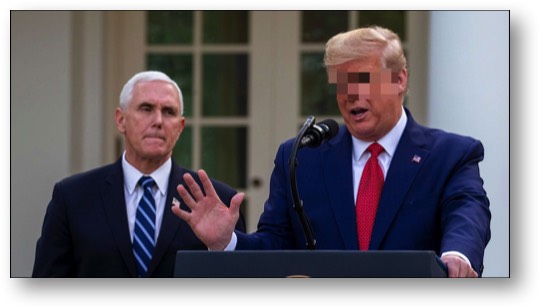 Trump is a useless and worthless human being

Business Insider reported that in Michael Wolff's forthcoming book, Landslide, Trump wondered how Pence "could be such a 'stiff' and a 'square'' and "regarded Pence as someone not tough, as someone who, he increasingly pointed out, could be 'rolled.'" The book also describes a discussion between them on January 5 — the day before Trump's insurrection — in which Pence refused Trump's demands to block Joe Biden's victory.

In that meeting, Trump asked Pence, "Do you want to be a patriot or pussy?" Pence, not rising to the bait, repeated that, in the overwhelming opinion of those constitutional experts he had consulted, the Constitution did not give him the authority to do what Trump wrongly insisted he could do, namely prevent Congress from certifying Trump's election defeat.

"The truth is there is almost no idea more un-American than the idea that one person could choose the president," Pence told a crowd assembled at the Reagan Library in California last month. "The presidency belongs to the American people, and the American people alone." President Biden won the presidential election by over 7 million votes!

Trump is a useless and worthless human being.
July 5
07/05/21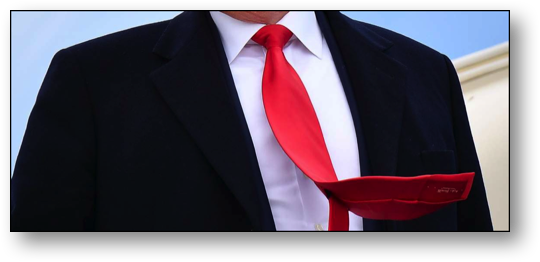 Trump responsible for 621,293 deaths

As of today, 621,293 Americans have needlessly died of Covid-19 as a result of this asshole's lying, denial and non-action.

Trump was a dismal failure who failed to prepare for the pandemic, and then failed to react in a timely fashion. He tried to portray the coronavirus as the enemy when in fact he was the real enemy of the people of America.
July 4
07/04/21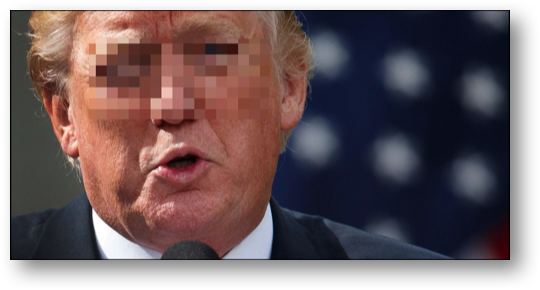 Citizen Trump callously held a political rally in the midst of a disaster

As emergency crews continued to search for survivors in the Surfside condo collapse, citizen Trump callously continued his "revenge tour" on Saturday night at the Sarasota fairgrounds. His rally came two days after prosecutors unsealed indictments alleging that the Trump Organization and its chief financial officer did not pay $1.7 million in taxes tied to company fringe benefits.

With Trump, it's always about Trump, and only Trump, at the expense of everyone else.

The political rally in the midst of a disaster that has horrified the nation became a topic of discussion among Trump's aides and Republican Gov. Ron DeSantis of Florida.

Most of Trump's speech was filled with his whining, complaining, and lambasting others, along with his worn-out list of baseless grievances, but Trump drew an enthusiastic crowd made up of his stupid, brainwashed cult members who waited for hours in pouring rain to hear him spew forth his lies, and who naively brushed off the charges against the Trump Organization.

Prior to Trump taking the stage, Rep. Matt Gaetz (R-Fla.), who is under federal investigation in an ongoing sex-crimes investigation, babbled on, as well as Donald Trump, Jr. Following those two losers, Trump then spoke for more than 90 minutes.

Governor DeSantis suggested to Trump that the fall was better timing for such a rally, given the perils of hurricane season in Florida, but Trump, the narcissist, ignored the suggestion since he's been selfishly eager for an outlet to have his voice heard and has been chomping at the bit to return to the rally stage.

Trump is a mentally ill malignant narcissist.
July 3
07/03/21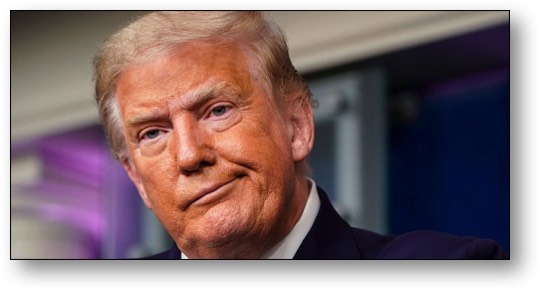 Trump is the Worst President in 150 Years!

Business Insider has reported that a new C-SPAN survey of more than 140 historians ranked Trump lower than any president in 150 years.

Abraham Lincoln sat in the top spot, and Barack Obama came in tenth.

Trump finished rock bottom, the worst of the worst, in the dregs of the American presidency, in "Moral Authority," "Administrative Skills" and "International Relations." He came in second to last in "International Relations."

Trump is famously obsessed with ratings, so we're sure he's not happy being ranked as the country's biggest LOSER, but he is! We don't give a rat's ass about anything Trump has to say or think, so we won't dignify him by posting his worthless reactions or opinions here.

What's truly amazing is that Trump is even able to attract supporters! These are obviously very stupid people, as you cannot be either uninformed or misinformed in 2021 about this delusional and mentally deficient autocrat. "Fake news" is the term these Kool-Aid drinking cult members use for anything that doesn't validate what they want to hear or what they are desperate to believe. Do they really believe a guy whose answer to protests in the streets after the George Floyd killing was to "just shoot them" was really a good crisis leader? Do they really believe he "Pursued Equal Justice for All?" Do they truly believe that a man who bragged about assaulting women, cheated on his third wife with a porn actress (and paid her $130,000 for her silence), and who was impeached twice doesn't deserve to be the absolute worst president of all? Enough of Trump's delusion.
July 3
07/03/21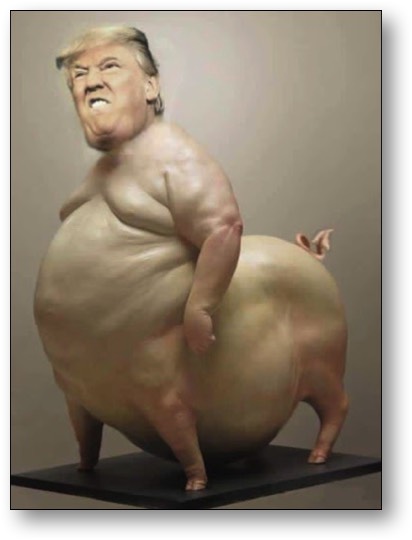 Trump, the Pig, attempted to get an Arizona GOP leader to change election results

Business Insider has reported that Trump called the Republican chairman of Arizona's Maricopa County Board of Supervisors, Clint Hickman, twice during the time he was trying to overturn the results of the election, attempting to persuade Hickman to change election results in his favor. The calls were made in late December and early January.

Joe Biden won Arizona, but Hickman said the state Republican Party chairwoman and Trump's lawyer Rudy Giuliani were pressuring him to investigate fraud in his county's election. Biden won handily in Maricopa county. A Freedom of Information Act request filed by The Arizona Republic showed records of the phone calls to Hickman from Trump and Giuliani.

Trump and his allies waged dozens of frivolous, unsuccessful lawsuits trying to overturn the election and have repeatedly made false claims that he would be reinstated.
July 2
07/02/21

Allen Weisselberg, Trump's lackey, surrendered to authorities

The Wall Street Journal reported that Allen Weisselberg, the Trump Organization's chief financial officer, surrendered to New York prosecutors yesterday after being charged with tax-related crimes. The charges are the first to arise from a nearly three-year probe by New York prosecutors of Trump and his business dealings.

This is a severe blow to Trump, who has fended off multiple criminal and civil probes during and after his presidency. But blowback from the case could thankfully complicate Trump's political future as the mentally deranged scumbag considers a possible 2024 White House run.

The Trump Organization and Weisselberg are expected to face charges related to allegedly evading taxes on fringe benefits. So far, Weisselberg has rejected prosecutors' attempts at gaining his cooperation, but he'll surely squeal like a pig when faced with prison time. Weisselberg is the most informed person at the Trump Organization and knows all Trump's secrets and how his money gets laundered, so charging Weisselberg is just the tip of the iceberg to finally bringing Trump down. The most serious of the charges against Weisselberg, second degree grand larceny, carries a sentence of up to 15 years. Weisselberg faces 14 other charges, including tax fraud and conspiracy.

The indictment, by itself, could undermine the Trump Organization's relationships with banks and business partners.

Citizen Trump predictably used more of the familiar, worn-out phraseology he employed during investigations into his conduct in the 2016 campaign and while he served as president, saying "The political Witch Hunt by the Radical Left Democrats, with New York now taking over the assignment, continues."
July 1
07/01/21
Allen Weisselberg, Trump's lackey, to be charged on Thursday

Both Reuters and The Wall Street Journal are reporting that the Manhattan district attorney's office is expected to charge the Trump Organization and its chief financial officer, Allen Weisselberg, with tax-related crimes on Thursday. The charges are the first to arise from a nearly three-year probe by New York prosecutors of Trump and his business dealings.

This is a severe blow to Trump, who has fended off multiple criminal and civil probes during and after his presidency. But blowback from the case could thankfully complicate Trump's political future as the mentally deranged scumbag considers a possible 2024 White House run.

The Trump Organization and Weisselberg are expected to face charges related to allegedly evading taxes on fringe benefits. So far, Weisselberg has rejected prosecutors' attempts at gaining his cooperation, but he'll surely squeal like a pig when faced with prison time. Weisselberg is the most informed person at the Trump Organization and knows all Trump's secrets and how his money gets laundered, so charging Weisselberg is just the tip of the iceberg to finally bringing Trump down.

The indictment, by itself, could undermine the Trump Organization's relationships with banks and business partners.
July 1
07/01/21
Pre-order LANDSLIDE now!

Michael Wolff's third book on the Trump administration, titled Landslide: The Final Days of the Trump Presidency, is now available for pre-order on Amazon for its July 27 release.

The book contains many astonishing snippets of what life was like in the White House in the final days before the Capitol Riots and Trump's exit from power. It details his reaction to the election and the inner workings of a crumbling political campaign where many of his closest allies took pains to be absent as the election results were contested.