Notable Firings and Resignations Under Trump
09/28/19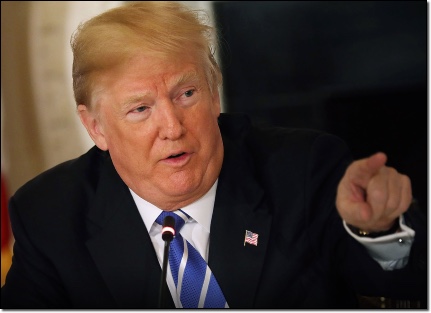 There's nothing but chaos in Trump's administration. It's nothing but a revolving door at the White House. Even Trump's own hand-picked staff can't stand to work for him.
No one lasts long on a rudderless ship with an incompetent captain.
The situation has gotten so bad that the White House is now resorting to
recruiting at a job fair
where the ad states it is looking for the most "competent conservatives." It used to be that West Wing jobs were coveted career-making opportunities. Not any more! No one with a brain wants to work for Trump.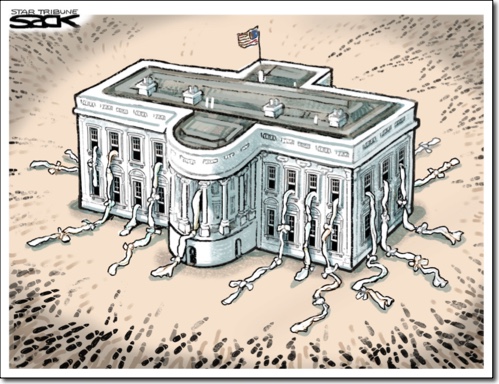 For over two years in the Oval Office and in an unorthodox business career before that, Trump has survived on nothing but chaos, using it as an organizing principle and even a management tool. Now the costs of that chaos are starkly clear in the demoralized staff and policy disarray of a completely wayward White House. It's been widely reported that the mood inside the White House is verging on mania. Staffers are anxious and nervous, wondering what each new headline may mean for them personally. What a great atmosphere for doing the work of the people of the United States, pointing directly to Trump's incompetent leadership.

Here's the "real news" and the long and ever-expanding list of those who have left. It's nothing but a revolving door of hirings and firings. Connect the dots. It's not hard — it's nearly a straight line pointing down. No one can work in the administration of an unstable, malignant narcissist for very long.

Notable Firings & Resignations (in reverse chronological order)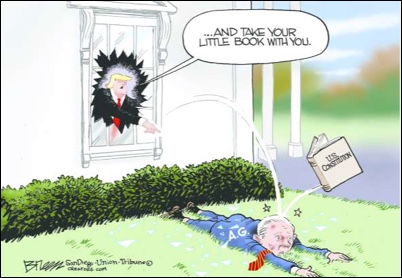 10/9/18 - Nikki Haley, U.S. Ambassador to the United Nations and former governor of South Carolina.

9/13/18 -

Retired Admiral William "Bill" McRaven

, the former head of Special Operations Command, resigned from the Pentagon's Defense Innovation Board. This hero headed up the attack on Osama bin Laden on 5/2/11, and who appropriately wrote the following about Trump: "Through your actions, you have embarrassed us in the eyes of our children, humiliated us on the world stage and, worst of all, divided us as a nation."

8/29/18 -

Don McGahn

, White House counsel.

7/12/18 -

Jennifer Arangio

, the National Security Council's senior director for international organizations and alliances, was fired after standing up for refugees.

7/10/18 -

Jahan Wilcox, Lincoln Ferguson, Hayley Ford and Kelsi Daniels

, top Republican aides to EPA administrator, Scott Pruitt, all resigned.

7/5/18 -

Scott Pruitt

resigned as Administrator of the Environmental Protection Agency.

6/30/18 -

James D. Melville, Jr.

, U.S. ambassador to Estonia, resigned in frustration over Trump. He is the third ambassador in the last year to leave the State Department early.

4/11/18 -

Paul Ryan

, Speak of the House, announced his retirement at age 48, saying he "believes strongly in inclusive, aspirational politics that are based on bringing people together and not exploiting divisions." He's leaving with

several dozen

other House Republicans, many of whom have said they're tired of "today's political climate" (translation: Trump).

Ryan's announcement is the clearest sign to date that there will be a huge Democratic wave to overtake the House of Representatives current 23-seat majority in November of 2018.

As Representative Ted Lieu of California tweeted to House Republicans, "There's still time for many of you to follow his [Ryan's] lead and retire gracefully."

4/10/18 -

Tom Bossert

, Trump's Homeland Security Advisor, resigned at the request of John Bolton, Trump's new National Security Advisor.

4/8/18 -

Michael Anton

, National Security Council spokesman. leaving to join Hillsdale College's Kirby Center as a writer and lecturer.

3/28/18 -

David J. Shulkin

, Secretary of the Department of Veteran Affairs.

3/26/18 -

Darin Selnick

, a White House advisor, is leaving the post and returning to the Veteran Affairs office.

3/22/18 -

John Dowd

, Trump's lead lawyer for the special Russia investigation, resigned because he said Trump was ignoring his advice.

3/22/18 - Trump fired

H.R. McMaster

, his national security advisor.

3/16/18 -

Andrew McCabe

, FBI Deputy Director, fired by Trump's administration less than 24 hours before he was set to retire, resulting in the possible loss of a significant portion of his retirement benefits.

This further proves Trump's vindictiveness. Why then, one would ask, would anyone either want to serve under this administration or be a supporter of this president. It just proves that

stupidity is still not illegal in America

!

Trump called McCabe's firing "a great day for Democracy." Uh, not exactly.

In reality, the greatest day for Democracy will be the day Trump is impeached and forced to leave the people's White House!

3/13/18 -

Rex Tillerson

, Secretary of State, fired by Trump and replaced with Mike Pompeo, Director of the CIA, so Trump could have his new team in place prior to his talks with North Korea. Trump is replacing Pompeo with

Gina Haspel

as the new Director of the CIA. Haspel ran one of the CIA's secret detention sites in Thailand where she oversaw the torture of two terrorism suspects which, according to the New York Times report, included waterboarding and smashing one suspect's head into a wall. Haspel then took part in an order to destroy the videotapes documenting those brutal interrogations. Pompeo, on the other hand, claimed that waterboarding is not torture and praised as "patriots" those who used such methods in the early days of the fight against Al Qaeda. By the way, Trump fired Tillerson by Twitter while Tillerson was in Africa!

Trump is lower than low

.

3/13/18 -

John McEntee

, Trump's personal assistant, fired over financial problems related to gambling and mishandling taxes. Amazingly, McEntee was

hired within an hour

by the Trump 2020 Campaign as a senior advisor!

3/12/18 -

James Schwab

, spokesman for the San Francisco division of Immigration and Customs Enforcement (ICE), resigned citing falsehoods being spread by members of the Trump administration, including Attorney General Jeff Sessions

3/6/18 -

Gary Cohn

, director of the National Economic Council & the last powerful voice in the White House arguing against Trump's threats to break up the North American Free Trade Agreement (NAFTA)

2/28/18 -

Hope Hicks

, White House communications director. She's the FIFTH communications director Trump has had in ONE YEAR, while President Obama had five in his entire eight years in office!

2/27/18 -

Josh Raffel

, senior White House communication aide

2/14/18 -

George David Banks

, White House advisor on energy and environment, because of his inability to obtain a permanent security clearance resulting from his past marijuana use

2/9/18 -

David Sorensen

, White House speech writer, on reports that he was violent and emotionally abusive to his ex-wife

2/9/18 -

Rachel Brand

, Associate Attorney General, after less than 9 months on the job

2/7/18 -

Rob Porter

, White House staff secretary (Resignation following abuse accusations by TWO of his ex-wives, Colbie Holderness and Jennifer Willoughby. White House chief of staff John Kelly knew about this since last year, but released a separate statement calling Porter "

a man of true integrity and honor

." What integrity and honor? And Sarah Huckabee Sanders said, "Rob Porter has been effective in his role as Staff Secretary. The president and chief of staff have full confidence in his abilities and his performance." Nice, but ineffective, attempt at deflecting, Sarah. This isn't about Porter's abilities and job performance; it's about him being a woman abuser and puncher. He belongs locked in a cage, not in the White House, which is

the people's house

; our house! What wife beater would you allow into your house? These White House responses further amplify how Trump and his administration continually attempt to deflect the real issues at hand. Sugar-coated scum is still scum!)

1/29/18 - Andrew McCabe, FBI Deputy Director

Jan, 2018 -

Taylor Weyeneth

, Trump's 24-year-old appointee to the White House Office of National Drug Control Policy

Jan, 2018 -

Brenda Fitzgerald

resigned as Director of the Centers for Disease Control and Prevention

1/18/18 -

Carl Higbie

, chief of external affairs for the Corporation for National and Community Service (CNCS), the government's volunteer service organization (resigned for making racist, sexist, anti-Muslim and anti-LGBT comments on the radio)

1/17/18 - Nine out of twelve

National Park System Advisory Board

members resigned

without a functioning body to designate national historic or natural landmarks. The

National Park System Advisory Board

are citizen advisors chartered by Congress to help the National Park Service care for special places saved by the American people so that all may experience our heritage. This underscores the extent to which federal advisory bodies have become marginalized under the Trump administration.

12/13/17 - Omarosa Manigault Newman, former "Apprentice" contestant, resigns as director of communications for the White House's Office of Public Liaison

12/8/17 - Dina Powell, Deputy National Security Advisor

9/29/17 - Tom Price, Secretary of Health & Human Services

8/25/17 - Sebastian Gorka, Deputy Assistant to the president

8/14/17 - Steve Bannon, White House chief strategist, resigned to return to Breitbart News

7/31/17 - Anthony Scaramucci, White House communications director, resigned after only 11 days on the job

7/28/17 - Reince Priebus, White House chief of staff, is fired by Trump

7/25/17 - Michael Short, Press Aide

7/21/17 - Sean Spicer, White House press secretary, resigns

7/6/17 - Walter Shaub, Office of Government Ethics director

July, 2017 -

Derek Harvey

was fired as Top Middle East Advisor for the National Security Council

5/18/17 -

Michael Dubke

, Communications Director

5/9/17 - James Comey, FBI director

5/9/17 - John Thompson, U.S. Census Bureau director

5/5/17 - Angella Reid, chief usher

March, 2017 - Preet Bharara, US Attorney for the Southern District of NY

March, 2017 -

Katie Walsh

resigned as Deputy White House chief of staff

2/13/17 - Michael Flynn, National Security Advisor

1/30/17 - Sally Yates, acting Attorney General

Derek Harvey, top Middle East advisor for the National Security Council

Katie Walsh, Deputy White House chief of staff

George Sifakis, Office of Public Liaison director

Ezra Cohen-Watnick, senior director for intelligence programs, National Security Council

Vivek Murthy, surgeon general

Keith Schiller, director of Oval Office operations

Carl Ichan, special advisor to the president on regulatory reform

Craig Deare, National Security Council senior director for Western Hemisphere affairs

White House Manufacturing Council

(the entire council was dissolved after numerous council members resigned after Trump insisted that violence at a rally of white supremacists in Charlottesville was perpetrated by many sides). Members of this council included: Jeff Immelt, General Electric chairman; Kevin Plank, Under Armour CEO; Brian Krzanich, Intel CEO; Scott Paul, Alliance for American Manufacturing president; Thea Lee, AFL-CIO economist; Richard Trumka, AFL-CIO president; Inge Thulin, 3M CEO; Denise Morrison, Campbell Soup Company CEO; Elon Musk, Tesla and SpaceX CEO.

White House

Strategy and Policy Forum

(the entire council was dissolved after all the members resigned, saying that "intolerance, racism and violence have absolutely no place in this country and are an affront to core American values"). Members of this council included: Stephen Schwarzman, Blackstone CEO; Jamie Dimon, JPMorgan CEO; Indra Nooyi, PepsiCo CEO; Mary Barra, General Motors CEO; Doug McMillan, Walmart CEO; Alex Gorky, Johnson & Johnson. Not surprisingly, Trump then attacked those who left the council.
These are dark days inside the White House, and we haven't bottomed out yet. What a sad, pathetic and disgraceful administration, resulting from a person at the helm who has narcissistic personality disorder, a serious and incurable mental condition.

Disassociating From Trump
On 3/5/18, the majority owner of a luxury hotel in Panama City regained control of the building after a legal battle with the Trump organization, and within hours of the Panamanian court verdict, hotel staff removed the Trump name from its main entrance. No one with a brain wants to be associated with the Trump brand any longer.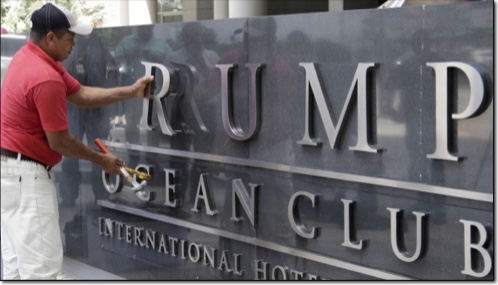 On 9/14/18, Leslie Wexner, the billionaire CEO of L Brands and the wealthiest supporter of the GOP in Ohio, said he is no longer a member of the Republican Party. He said he "won't support this nonsense in the Republican party" any longer. He said that President Obama's visit to Ohio last week was "a great moment for the community."