August 7
08/07/22

Just who does he think he's bullshitting?


Yesterday, at the Conservative Political Action Conference in Dallas,
Trump, the #1 Bullshit Artist,
said that former White House doctor Ronny Jackson loved looking at his body
. My body "was so strong and powerful," Trump touted.

Gag us, Donnie! You're so full of shit. Just who do you think you're kidding? Why insult and embarrass the poor doctor? Did anyone catch Trump's low-hanging gut and side handles at his golf outing last week?
Trump is nothing but a fat ass, out-of-shape wimp and coward.
"He was the White House doctor. He was a great doctor. He was an admiral, a doctor, and now he's a congressman," Trump said while Jackson looked on from the audience.

Jackson has publicly
praised Trump's health
in recent months, claiming that he is in the top 10% of everyone his age and suggesting he might have lived to be 200 years old if he had a healthier diet.


Do America a favor and keep chomping down on those Big Macs, Donnie!
August 7
08/07/22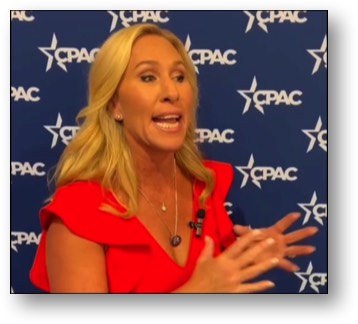 Speaking of not doing the job…..


Marjorie Taylor Greene, the worthless QAnon Bitch from Georgia, actually had the nerve to say she "wants to see leaders in the Republican party actually doing the job that they campaign and say they're going to do" and "bringing accountability to Congress."

Well, what the f*ck, Marjorie, why didn't you do the job you campaigned for and said you were going to do? You were the one that solely created the
untenable situation that
got you
kicked off both the Education and Budget Committees
in Congress in a 230 to 199 vote
for endorsing the executions of Democrats and spreading dangerous and bigoted misinformation. You were the one who professed that the Sept. 11 attacks didn't happen and that school shootings weren't real, saying that both were staged. You were the one who posted a Facebook comment in 2019 that endorsed shooting Nancy Pelosi in the head and suggested in the same year that Justice Ruth Bader Ginsburg had been replaced with a body double.

So who's on the fringe and not doing the job of serving the people who elected you, Marjorie?


What a worthless, "do nothing" bitch who has done nothing in office but ride on the coattails of Trump, her deranged cult leader! And
now you've stated that you'd be honored to be Trump's choice for Vice President! God help America if the Republican Party ever endorsed these two phonies for president and vice president. We've reached the absolute bottom of the barrel. Democracy would surely be over.
August 6
08/06/22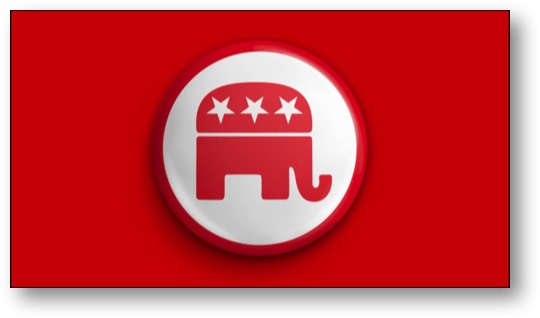 Republicans pick Milwaukee to host their convention
Thank God that mentally deficient Trump and his assemblage of fringe, right-wing neo-Nazi fascists, white supremacists, and radicalized zealots will not be convening on your state for the 2024 Republican National Convention!
We feel very sorry for you, citizens of Milwaukee, that you'll have to put up with this mob of LOSERS.
August 5
08/05/22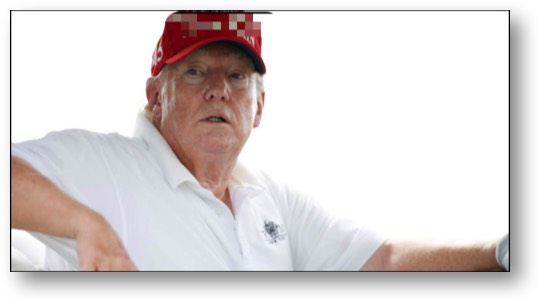 The COWARD
Former Vice President Dick Cheney slammed Trump, calling him a "coward" in a new TV ad bolstering his daughter, Wyoming GOP Rep. Liz Cheney, ahead of her primary on Aug. 16.

"
In our nation's 246 year history, there has never been an individual who is a greater threat to our republic than Donald Trump
," Dick Cheney says directly into the camera in the 60-second ad. "He tried to steal the last election using lies and violence to keep himself in power after the voters had rejected him," Cheney adds.
He is a coward.
A real man wouldn't lie to his supporters."

Former Vice President Dick Cheney only voiced what everyone already knows.
Trump is clearly unfit for any office
in the land.
The time is long overdue that the Department of Justice charge, try, and then fully prosecute this traitorous asshole with life in prison.
August 3
08/03/22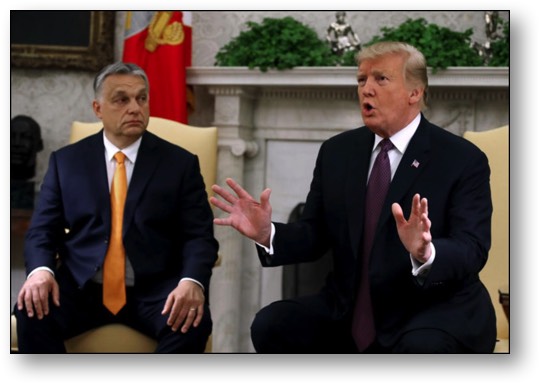 Trump meets with fellow dictator
Trump met with Hungary's authoritarian leader Viktor Orbán this week in a post on Truth Social, Trump's failing social media venture. Why? The twice-impeached malignant narcissist and autocrat called Orbán his "friend" and praised him for his knowledge of world affairs. Trump's meeting with Orbán comes a week after Orbán
came under fire for
berating Western Europeans for "mixing with non-Europeans."
Trump obviously forgot (most likely never learned) that the United States is designed as a melting pot of immigrants. Trump's wife Melania is an immigrant.
Orbán, an ally of Russian president Vladimir Putin, and Trump
are both scheduled to speak at the CPAC conservative conference
in Dallas, Texas, this week.
Why would anyone give dictatorial Orbán the stage at any event in the United States?


So Orbán is Trump's "friend?" And Trump thinks Putin is a "genius." Trump, the traitor, has also praised several
authoritarian leaders
, lauding everyone from North Korean leader Kim Jong Un to Chinese President Xi Jinping. In October,
Trump
backed Brazilian President Jair Bolsonaro
,
who was officially charged with crimes against humanity, charlatanism, and for
plunging Brazil into danger and causing needless COVID-19 deaths,
saying they had a "great" friendship. Birds of a feather flock together.

And never forget, folks, that it was "do-nothing" Trump who sat with his thumbs up his ass while he declared that COVID was simply going to go away "like a miracle," allowing the virus to spread as fast as it did in the United States.
August 3
08/03/22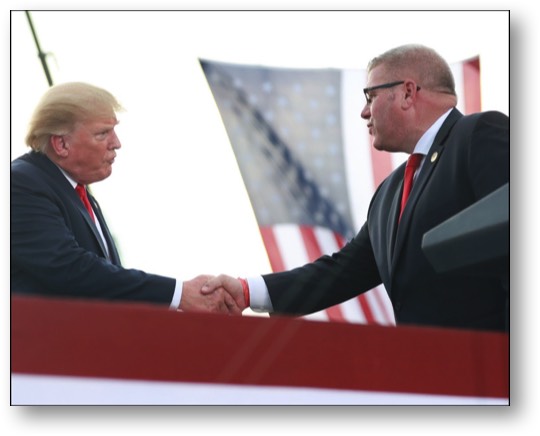 Another Republican out of touch with reality


Darren Bailey, the Trump ass-kisser, Illinois state senator, and far-right Republican candidate for governor in Illinois, said
the Holocaust "doesn't even compare" to abortion
, which he called "one of the greatest atrocities of our day."

Is that so, Darren? Maybe you should learn how to read and go back to study the Holocaust.

Bailey's ignorance should be enough reason to
retain Governor JB Pritzker
, who is Jewish, in the upcoming November general election.
Vote Democratic!
August 2
08/02/22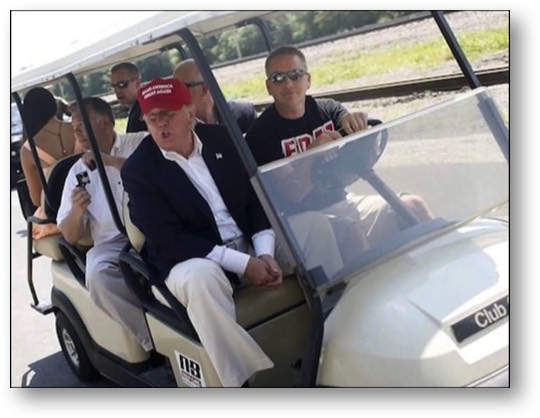 President Biden directed the drone attack that
killed the top al-Qaeda leader
This weekend's historic news was that
President Joe Biden directed the killing of Ayman al-Zawahri, the top leader of al-Qaeda
, the top terrorist who succeeded Osama bin Laden and who was a top architect of the Saudi-planned and executed 9/11 terror attacks. Way to go, President Biden!

President Biden directed this attack while
Trump was lining his pockets at a Saudi-backed golf outing
at his Bedminster, N.J. golf course. This killing of one of the most wanted terrorists in the world validates President Biden's decision to withdraw U.S. troops from Afghanistan last year.

"Trump was taking Saudi blood money to host a golf outing this weekend. Biden was killing terrorists," said National security attorney Bradley Moss.


Trump, the twice-impeached malignant narcissist, has proven that he will sell his soul and throw America under the bus if it benefits him personally and financially.
August 1
08/01/22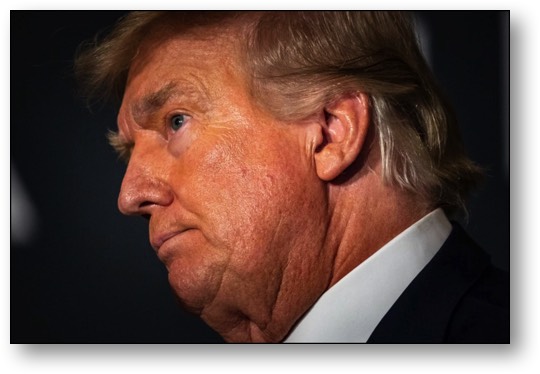 Trump, the Traitor, sides with Russia
Rolling Stone
has reported that
Trump is once again siding with Russia
. This time it's with regard to the proposed trade of America's Brittney Griner,
two-time Olympic gold medalist and seven-time WNBA All-Star,
for
Viktor Bout, a convicted Russian arms trafficker.


Trump maligned Griner as "a potentially spoiled person" who went to Russia "loaded up with drugs," which is an exaggeration of her cannabis arrest. Trump, who, like an immature adolescent, is not even capable of speaking in full sentences, said, "We're supposed to get her out for an absolute killer and one of the biggest arms dealers in the world. Killed many Americans. Killed many people."

The offer for swapping Griner for Bout has the support of President Biden.

Since the 2016 campaign, when numerous Trump associates had
ties to the Russian government
, Trump has broadcast his soft spot for Russia and its president,
Vladimir Putin
. As recently as this year,
Trump has praised Putin
, calling his invasion of Ukraine
"
genius
."
Trump is a traitor to America who belongs locked up in prison.
August 1
08/01/22
Ted Cruz is an "utter fraud"

Let's say it again:
Ted Cruz is an "utter fraud."
Those were the words of Adam Kinzinger (R-Illinois).
Senate
Republicans
blocked
the
PACT Act
, a bill to assist former combatants exposed to toxic chemicals, drawing significant backlash from veterans organizations and comedian Jon Stewart, as well as many others. Cruz drew further criticism after
a video circulated widely online of him fist-bumping
fellow Republican Senator Steve Daines of Montana on the
Senate
floor after the vote.


"We've seen partisanship and games within Congress for years," Jeremy Butler, CEO of Iraq and Afghanistan Veterans of America, a nonprofit veterans' organization, told
NBC
News on Thursday. "But what is shocking is that so many senators would literally be willing to play with veterans' lives so openly like this."


It is very unfortunate that we have such ass-wipes like Ted Cruz in the Senate who represent nothing or no one but their own interests.